Male runners working harder than their female counterparts? Reading this article in the Evolutionary Psychology Journal makes it sound like these professors have come to just this very conclusion.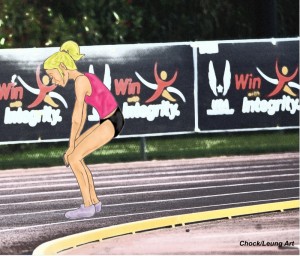 Before all us runnerchicks get our bunhuggers in a bunch, let's take a gander at their case evidence and logic. The prose is that the 'average male' is running relatively faster times than the 'average female' runners; that is to say that if you take the current World Record and leading times and then times that average runners race at, the the men are proportionally closer to these elite times than the women.

This is true despite the fact that the rate of increase in number of females who are now taking part in our sport is vastly more than the men. For example the increase in male participation from 1989 to 2009 in road races was 60% where for the women it was 498%. (for NCAA Track and Field it was 32% for the men and 98% for the women) Though there are other factors that quantify such a leap, namely females being ALLOWED to participate…that and for college, the inclusion of Title IX certainly has upped the numbers.
So going into the study, these professors hypothesized, "In any given race, about three to four times as many men as women ran relatively fast. The stable sex difference in relative performance shown here for non-elites constitutes new support for the hypothesis of an evolved male predisposition for enduring competitiveness."
Through the study they built their argument into three points: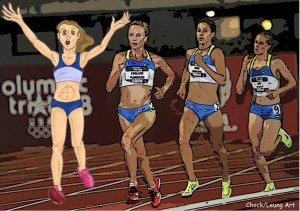 * Males tend to be more competitive than women and thus push themselves harder. (I have raced against, run alongside, and befriended women who I know have more mental grit than many men. Females may not generally be as outwardly apparent in being 'out for blood' but after the gun goes off, there are no favors for friends…everyone wants the win.) The professors do point out that the numbers are higher for females going to races more as pleasure runners, being interested in just finishing and having fun regardless of the time, than for men.
* The number of males who are putting in a larger volume and higher intensity training program is more than for females. (It does take faster paced workouts to lead to faster race times, no doubt, so here it becomes a difference of goals between the sexes perhaps. Are more of the males interested in chasing a PR and then including the uptempo work versus wanting to run sheerly for the pleasure of running?)
* Males report keeping up that higher training level longer than women. (This could be affected by some factors: certain injuries, life ie: time off for babies, and anemia are all things women tend to suffer from more often than men. It takes consistent training to lead to improvement so these interruptions are doing females no favors.)
End of study findings: "These findings strongly suggest that the sex difference in performance depth can be largely attributed to more men being motivated to engage in the training necessary to run relatively fast."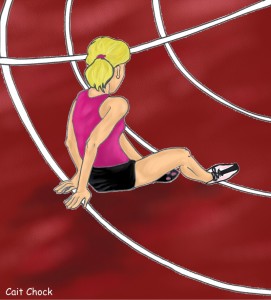 I'm going to remain an unbiased party here and say that these are generalizations and there are exceptions on both ends. Numbers do show that the gap between the average runnerchick's times and those of the elites is larger than for men. I think a part of that DOES come down to women having the self-security to believe they are possible of achieving things.
By nature girls grow up with no shortage of 'mean girls' chipping away at the old self-esteem. It take believing in your goals to see them actualized. Self-esteem is one of the biggest benefits of sports for females because here there is an arena where we CAN prove we are tough as nails and achieve feats we can be proud of.
Men and boys may have a leg-up on us in some respects with the self-esteem issue however I don't feel that needs to be an accepted excuse. Instead, I know there are oh so many runnerchicks who are out there busting their @$$ and I hope in time the black and white numbers will reflect this.
1) What are your thoughts on this study?
2) What do you think may be factors in the discrepancy between the genders?
3) Male or female, when you go to a race what are your main intentions? Do you go for a PR and fast time or do you go the more pleasure runner route and don't worry about the time?
Related posts: