Whew…so update from the art cave!!
If you've been following me on Instagram, (if not, do feel free, I love all my awesome friends there!) you may have noticed a bit of a new style.
I've been doing a lot of pencil realism work as of late, and have added a NEW PAGE featuring my growing collection there. I've also added loads new available prints to my ART SHOP…so by all means feel free to mosey over there. Anything not already listed, you can happily purchase by sending me an email: cait@caitchock.com.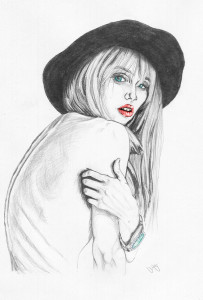 Art is all about challenging yourself with new endeavors and evolving as an artist, so I've enjoyed playing with these new portraits. Don't fret, changes don't mean abandonment, and my lovely Tinies and previous long-lashed characters are NOT abandoned…these pencil ladies are now just added to the family. 😉
I've also wanted to send a BIG THANK YOU to every single person who's commented, liked, and supported my art. It means the world and I will continue to keep supplying the artage. It's a beautiful thing to be able to make your work something you love to do, and thank YOU ALL for allowing me to do that.
xx Cait
Related posts: