My aunt's an artist and she has a saying, "Accidental art." It's not so much a saying as a phrase for life; if you make a mistake take a look at it again and you just might see that this 'accident' made it better.
There was a Native American tribe that used to purposefully hide a flaw in every piece of art, pottery, and weavings they did because they knew that humans weren't perfect and nothing ever is…nor should it be.
Though, as a bit of a perfectionist, I don't always remember this. I get so furious when a detail isn't EXACTLY how I envisioned it in my mind and could waste hours trying to get it just right. Sometimes I need to just let go and reiterate, "Accidental art."
The same goes for training and racing; you can't always predict how things will go.
No matter how much you may plan, envision, strategize, calculate and dream you can't completely control the outcome.
That can be frustrating but it's a part of our sport and it can be suprisitingly euphoric too.
An athlete at the top of their game could come into a race and just feel horrible, for them it would be additedly depressing; though for the upset underdog who had the race of his life it could be a pincale of their career.
How can we take these supposed failures and make this 'accidental art'? LEARN FROM THEM.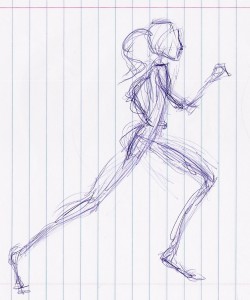 A bad race could be the 'best' thing that ever happened to you if you take away something from it and never repeat a mistake again. You go out too fast in the first race of the season and die a horrible death; championships roll around and you run negative splits and run your best race.
You come to the track and the workout is not going at all how it was planned. You could chuck the watch and get through it knowing that the effort is there, you might adjust the workout (if it was long intervals but you're flat try doing some speedy 200's) and aim to get a different kind of benefit. Finally you could just get through it and know it's more a test of your mental grit. Later try to find out if there could be a reason you felt so crummy (check your recovery, easy runs, nutrition, sleeping, etc.) and see if you could correct that.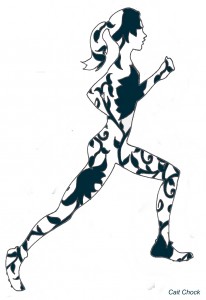 Thankfully there is always another workout around the corner and if you 'messed up' one you get another chance to redo it. The beauty of workouts are they are just practice for races; if you're going to make a mistake make it there and learn from it.
However, in the end sometimes you just plain feel like junk and that's just the legs you were dealt with for the day. It's that margin of unknown in our sport. While we feel safe and in control with the black and white numbers and times that come with running, we have to acknowledge that our bodies will forever throw at us the element of surprise.
You can choose to wallow in the failures or instead look at it again and make some 'accidental art.'
1) Are you a perfectionist? In some things or all? How do you try to 'let go' of details that aren't so important?
I'm a perfectionist in things I decide I really care about…sadly for my chemistry classes the same can't be said there. 😛
2) How do you handle bad workouts or races?
3) Last thing you can admit to failing epically at?
I promised myself I'd organize my mountain of 'stuff'…I'm not winning there. I can't say I love all my failures…but sometimes we need to cut ourselves some slack and keep moving on. 😛
Related posts: