The last few days my Adobe was acting up, legit like a two year old heck bent on crippling me. I couldn't finish work that NEEDED to be done, I cursed the computer and slammed some fists. It had turned ME into a toddler. Hot mess.
Stress. Frustration. Anxiety. We can't avoid it in life and we can't avoid it in running either. There are ALWAYS going to be things totally out of our control. My tantrum wasn't going to solve the computer issues, and neither is the wildest of fits going to cure a stress fracture. Sometimes sh*t just sucks but you NEED to deal.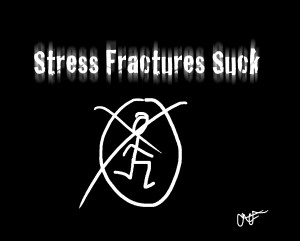 In the moment that can feel impossible but our fast-paced lives have gotten to a point where the stress, anxiety, and frustrations churning through us are destroying us. Making us sick. Clearly even if you're not on the verge of a stress induced heart-attack or breakdown, I dare say everyone and anyone has some sh*t going on that they would do well to unburden themselves with.