You too may be guilty of letting those annoying, yet oddly entrancing, informercials for the P90X training system run a little longer than you'd like to admit. Though, the same sort of effect does occur when the Shake Weight or Ab Zapper comes on…they pull you in and by the time you realize you're watching there's a little bit of drool on the remote.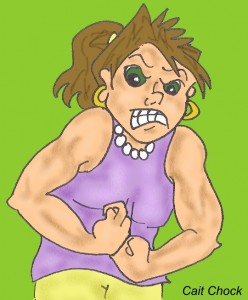 Back on track here…the P90X training thing looked to me like just another twist on in-home fitness. A trainer looking to be the new Jane Fonda so to speak…only meatier, musclier, and with a bit of the army-esque 'gggrrr' appeal. They have the clips of sweat drenched men in cut-off's busting out burpees and ladies with abs that could grate cheese.
They have to, it is after all aimed to get you to buy into the program. It looked like a combination of weights, plyometrics and core work which isn't bad…but then again nothing incredibly revolutionary or late-breaking. Just my opinion…really, when it comes to the general public, getting them to do anything on a consistent basis is better than nothing. It also looked like there was an accompanying diet program which would also help explain the stark contrast of before and after pictures.
For the general public, what a lot of their workouts are lacking are:

*Consistency and personal accountability
*Intensity (a leisurely stroll around the block does not a true workout make…you want to get your heart rate up there and keep it there)
*Cardio and strength (many go the either or route, you need both…and it's possible to combine the two in one workout)
P90X seems to supply that but so does a lot of other training techniques. My thing with it is that it tastes like a gimmick because it's telling you it's such a revolutionarily, different training product. That there is nothing else like it or will give you results…that's not the case.

But how effective would any of this be for distance runners, or serious runners for that matter? Obviously I'd never pick this over actually doing the miles or intervals, but maybe in accompaniment. (A side note, I'm sure P90X isn't exactly trying to appeal to competitive distance running market, more the masses, but this is a running blog and so I'm at liberty to roll with this one.)
I'd say if you picked and pulled apart different aspects of the P90X and pared it down to what distance runners tend to lack, then it could work. I would just see this as being a bit of a supplement to the training rather than a switch (obviously). I haven't dissected P90X enough to know exactly which parts may or may not be included in the list below…my point more-so is that finding these elements and including them in any way will help runners if done correctly. And that you don't need to buy into P90X to be able get these things.
*Plyometrics: These are explosive movements, things you see the sprinters doing a lot; think leaps, bounds, box jumps, high skips…I wrote a bit more on them HERE. The thing with plyometrics is they will build muscle strength which translates to power and speed. You can do this to a degree with really short intervals (like 200's) but as distance runners we don't tend to recruit those fast twitch muscle fibers too much…so plyo's are a nice way to do so.
*Core work and flexibility: Putting in lots of miles tightens up runners and many of us (myself included!) are too lazy to stretch. But it's hampering us in a few ways; not only setting us up for injuries but also, being tight limits our range of motion. If you can't get full extension because you're too tight, that's not a good thing. With core work, your torso is your powerhouse and there are tons of little, intrinsic muscles that typically get overlooked in strength routines.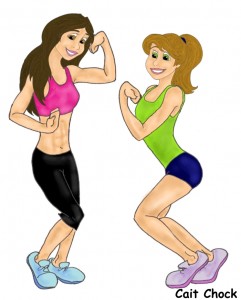 *Strength: Runners do tend to not exactly love the strenght work, but having stronger arms will help your running…your legs can only turn over as fast as your arms can pump. Also, building strength helps keep you running with proper form as you tire in addition to the obvious power you pick up from stronger muscles.
*Functional muscle: I don't tend to think going into the weight room and pounding the dumbbells is the most effective route to go…why build bulk for the sake of bulk? Rather, I think that functional training, where the moves are more dynamic and sports specific is going to do you more favors. So resistance training doesn't have to be confined to the gym; things like resistance bands could work, medicine balls, kettlebells, even holding weights and mimicking the arm swing motions you do with running. Build muscle that will DO what you want it to when you run; this is different from just getting toned to look good which you can easily do in the weight room.
*Mentality: While I sort of laugh at the army-fied nature, it does come down to pushing yourself HARD enough to get the benefits. If you need a guy yelling at you to pump you up, by all means. Running hard hurts, you have to run hard to run fast…do the math and you get running hurts. Mental training is not to be overlooked and it's good to continually callous your mind just as you do your body.
Nothing against Tony Horton, I think he's a smart marketer and that's what it does take to be successful today. I give him props for helping a lot of people take control and improve their lives…something we do need. (HERE is an article from Competitor that tackles this same kind of question.) I just don't like the message that it's completely revolutionary and the ONLY thing that works…like the magic bullet.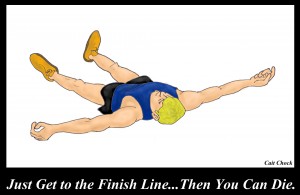 There is no magic pill to make you better…it takes consistent, hard work and lots of motivation. That can come in a variety of forms, no person is alike and their training programs will reflect that…it needs to contain some basic elements, but in the end there is no cookie-cutter mold that works for everyone.
1) What do you think about the P90X training system? Do you use it or have you tried it?
2) What are your thoughts on strength, core, and dynamic training for runners? Do you do plyo's or other methods, and how have they impacted your running?
I think plyo's really help with building power and speed…but you have to be smart when you do them and at what point you are in the season. Also, core and strength work I know has vast improved many a runner!
3) What's the 'best' or funniest informercial you've seen?
Shake weight is looking like the front runner at the moment. 😉
Related posts: