I don't jump. I can't really, anything that I do would only qualify as a hop at best. In my one-time attempt at the high jump in junior high PE, I made the running start, I tried to clear the bar, failed miserably, and then proceeded to roll off the back end of the mat and onto the concrete. Nice.
I'm pretty sure, actually I know it to be true, that the correlation between my lack of any speed and jumping ability are interrelated. It's because I don't have a single, not one, fast twitch muscle fiber in my body.
I've worked on it though in the past, diligently like a good little coachable athlete. That entailed 200's to boot, hill work, pulling weights while I ran (this was hilarious and I wish I had pictures…anecdote for another day perhaps), weight room, and of course plyo's.
Plyometrics. Short, all-out bursts of exertion, anaerobic, all fast-twitch baby. Hopping, jumping, bounding, leaping, you get the picture. Typically this is what you'd think of as only 'sprinter' or field eventer (is that a word?) work, but if you're a distance runner and you turn a blind eye to plyo's you'd be missing out.
[Actually, plyometrics are great for anyone, and I semi-cringe in writing this because in my writing of this I'm not trying to cater to the weight-loss masses or turn into one of 'those blogs' where they talk about working out for the sole reason to lose weight, but here is a quick fact: plyometrics are among certain activities that rev up your metabolism more-so than just going out for a steady run. They create something called the 'afterburn effect' too which keeps your metabolism elevated for hours after your workout is done as well; this is similar to what happens after you do a hard, interval session. Plyo's will also give you more definition and improve anyone's athletic abilities if done right, that's why so many sports teams incorporate them into their training.]
Other things you need to know about plyo's,( other than that they hurt…hehe) is that the aim is quality over quantity. Here it's all about giving it your ALL for the number of rep's that you do, and when you first start out you only want to begin with one set of each exercise and slowly build up. The thing is, you might not feel like you worked 'hard' enough your first few times out, but the next day and those that follow, that is when you'll feel the soreness.
The reasoning behind why you need to do each one precise and not get sloppy is tri-fold: if you do them with poor form you'll get into a bad habit and then repeating that is only instilling poor muscle memory, if you aren't doing them right you're not reaping the full benefits, and finally, you'll get hurt. Plyo's, if you do them right will make you more injury resistant but if you do them wrong you can easily hurt yourself, pull something, tear something, no good. So if you can only do a few correctly, stop there and wait until you're strong enough to add more; don't just do five ones perfectly and then ten more junky ones, it's not worth it. This is why it's smart to have someone watch you the first few times to make sure you're doing them right.
Plyometrics take it out of your body too and the best times to do them are early in the season, during the off-season, or during what would be considered a base period. Typically you wouldn't do them during racing season, by then you've pretty much put in all the work anyways. So, early-season timing is a great time to bust them out…and lookie here, that's where we are. 🙂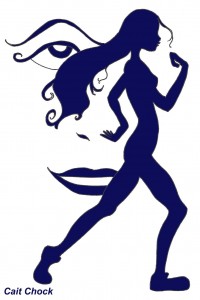 There are tons and tons of different plyo's you can do, so this one will be a series. First on the agenda will be bounding and skipping. Bounding is sort of like exaggerated running, you want to explode off of the ground here. Skipping, don't be shy boys, it's not just for girls on the schoolyard. The difference between the two is that for bounds you land on the opposite foot, for skipping you will land on the same foot as you started.
For this series you will aim to make each distance of bounds 30-40 meters in length; not too long because you want to make each bound exact, hard, and you'll be burning by the end. Start out with one set of each the first week, you can do two the second, and work up to four sets. Plyo's should be done at most three times a week and on non-sequential days. Don't do them the day before a hard workout and probably not the day before your long run either; doing them after your hard sessions is one suggestion. That way your easy, recovery days allow you to do just that.
*Bounds for distance: The aim here is to cover as much distance as you can with each bound, think of eating up that ground below you. You want to get as much air between those legs; when you toe off, extend the opposite leg as much as you can before landing.
*Bounds for height: Here you want to get as far off the ground as possible, all about the altitude. Try to get in as many bounds as you can in the distance because each one will be shorter, just make it higher.
* Skipping for distance: Similar to the bounds, but this time with skipping; really push to see how far each skip can get you.
* Skipping for height: Try to see how many skips you can get; and really reach for those clouds, friends. 😉
* A-Skip: This one is about speed and agility rather than trying to go for distance or height. When you skip, you want to be extra mindful of coordinating your opposite arm and leg to go up and down at the same time. Lift your knee up for the skip, get it up and then back down to the ground as fast as you can while still keeping the motion controlled. Again, if you have to slow it down at first to do it RIGHT that's much better than doing them faster but sloppily.
* B-Skip: This one is different from the A in that you will extend your leg as you skip. When you've gotten your leg to the top of your 'skip', kick your foot out in front of you, and then pull it back as you cycle back and land. As you get better at these you want to increase the speed in which you do them.
A few last things: As you work up to more sets of these, alternate the foot that you start off with. So if you did your first set of bounds leading with the right leg, do the second set leading with the left.
Finally, give yourself a full recovery between each set. With distance training it's our tendency to think that shorter rest is better and will get us more fit, but we're not tapping into our cardio here, it's all anaerobic and for this you really want to make sure you're fully rested and recovered before going into the next exercise. That way you can really put your all into each set and make it your best!
Alright folks, I'm out…but for my friends here that aren't necessarily on a team, plyo's are for everyone because it will make you stronger, faster, and improve your running. Then, again under my aforementioned disclaimer, it will give you some awesome definition too and that metabolic boost…all the more reason why refueling immediately afterwards is imperative!
1) Jumping, leaping, bounding, plyo's; love them or hate them? Or have you never tried them?
Not going to lie, I hate them, but it's usually the things we hate the most that are the best for us, right? 😉
2) Favorite refuel after a hard workout?
Ummmm, favorite choice or the best choice? Hehe.
Related posts: