One of the great things about our sport is the sense of belonging and camaraderie. How many times have you found out a person is a runner and it doesn't matter if they are a total stranger or not, you instantly feel a connection? You 'get' them and they 'get' you.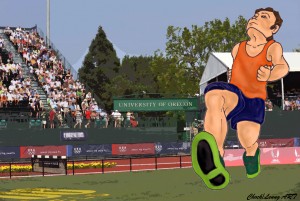 People sometimes think that running really isn't all the much of a team sport. More-so in track where it could be certainly argued it's more individual; but that's really not the case because even though you ARE out there and performing as an individual you aren't really alone. Even if you don't belong to an actual team or worrying about a team scoring, you are a member of the team of runners.
Your competitor knows what it takes to put in the miles and the training, they know that you're hurting just like they are, and they know exactly what it's like to be in your shoes…because to a certain degree they are. Certainly they want to beat you, but they have to respect and at least understand you.
Outside of actual races runners tend to be incredibly personable and gregarious…if I do say so we are some pretty down to earth and cool folks. Sure, we're weird, we're geeky in many ways, we could talk lost toe nails, war stories, Nip Guards, and GI distress like it's nothing.
Perhaps we have to have a sense of humor to balance out the insane desire to get up, do the same repetitive action again and again, and at times punish our legs like none other.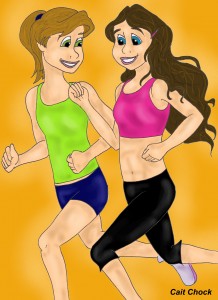 Runners can make for the best of friends, spend enough long runs and interval sessions with someone and you'll probably wind up knowing more about them than anyone else…or at least understand them unlike others. There is something that happens in those unsaid moments in the middle of long runs, in the last few excruciating repeats, in those runs done in torrential downpours and gale force winds, and in the jittery pre-race warm-ups.
Runners 'get' it.
1) Were you on track and cross country teams through school or any other places?
2) Are many of your friends runners or are you pretty much the only one? (It's totally cool, I love my non-running friends too!)
3) Do you sort of feel like you instantly like a stranger more when you find out they are a runner?
Umm…guilty! 🙂
4) In blogging I get this, do you feel like you know a virtual stranger really well because they are a fellow runner and you can relate to them?
Yup…crazy, I think I'm getting more virtual than real life friends. 😉
Related posts: