There is an art to simultaneously running and farting. To be properly mastered, it takes an expert combination of selective muscle control and timing with your stride.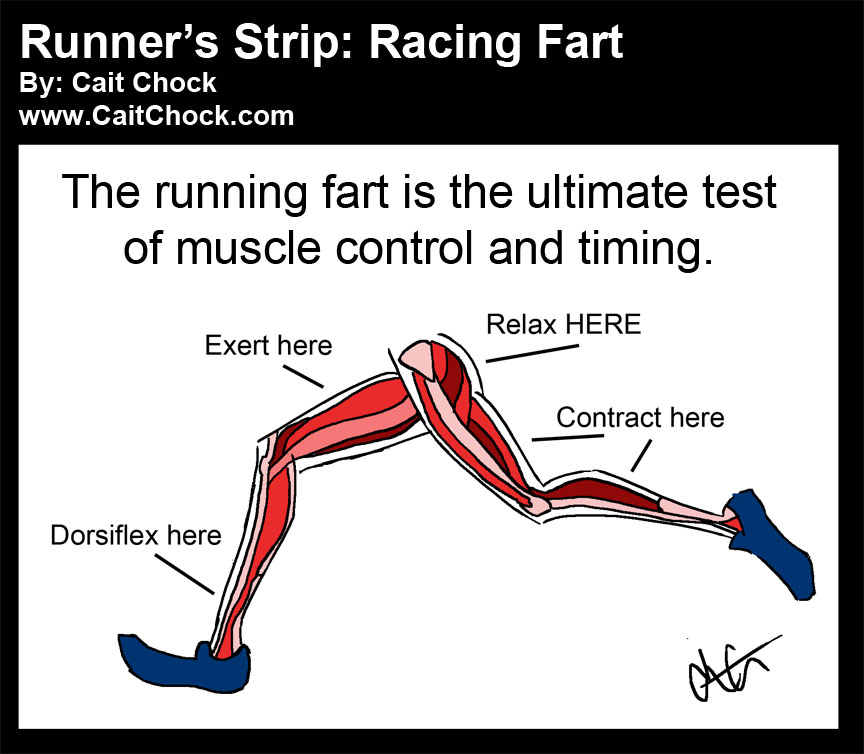 That said, there are few things more gratifying than running and letting go of that abominable bubble of gas in your intestines. The joy of letting one rip is only exponentially rewarding when you've been carrying along a potential GI disaster for miles, painfully holding back, but then realize that rather than a number 2 on your hands, the mounting, monster pain-ball was only…GAS!! Pit stop averted.
Go along and keep perfecting your running farts, Runners. Though, what separates the Lukes from the Yodas among is are the ones who can relax/contract/time during races and hard workouts without losing so much of a millisecond off their pace.
——
GI issues for runners addressed HERE and HERE.
More Runner's Strip and cartons HERE.
——
1) Worst GI nightmare run?
2) Name a time when you thought it was going to be a nightmare number 2 episode while running but then realized it was just a big ball of gas…you can't tell me the amount of relief you feel is nearly euphoric.
3) Do you have any shame letting a painful gas ball go while running? Do you hold back during certain times or in certain company?


Related posts: