Okay so today again, as a good little track nerd, I'll need to bring up the Women's 5k that happened over there at the World Track Champs. I'm partial to the women's distance events, but there is tons of action and I'm sorry to not spread the love, but that's how I'm going to roll…
I was talking yesterday about the A-FREAKING-MAZING women's 1500 that brought home the first Gold for an American distance race in 28 years and today, while it was back to the slew of Africans leading the field there things worth mentioning.
Lauren Fleshman came out to be the first American (and person of non-African descent in the race) and she placed 7th with 15:09. Yes, the winner, Vivian Jepkemoi Cheruiyot (that's a mouthful), deserves major props herself for pulling off the double win for the 5k and 10k and beating out tough fields.
That said, being an American chick-a-dee I think it's pretty stand-out that Lauren actually placed 8th at the USA Track Champs, wouldn't have even gone to the World Champs had not another athlete pulled out, and then she came out and was 7th in the World. Anyways, she actually has a really cool account of her entire experience over at her own blog, which I found fun to read.
Back to this lowly little runnerchick, no big hoopla or megatron, instead it was some Gossip Girl fueled entertainment. 10 miler on the tready followed by abs and core. Hey, I had forgotten in all this techie website drama that I actually added a new tap up top. It's just a list of some of the workouts or suggestions that I've jammered on about so far. If you're interested feel free, if not, no worries either!  🙂
Sorry to keep this one short, but I'm feeling rather boring as of late, and sometimes it's better to just put a fork in it rather than yammer on until the food is so cold and disgusting you never want to catch sight of it again!
1) Any fun weekend plans for people? Any races on tap?
2) I feel bad because I'm not really a well-rounded sports person. I have been to maybe one or two 'real' baseball or basketball games (the others were my bro's so I don't count those) and after about two minutes I get the 'okay, now what' syndrome and want to do something else. What sports are you a big fan of and love to watch?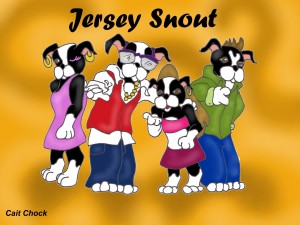 3) I'm sitting with my family's Boston Terriers, I think it's so cute/disgusting/hilarious that because their noses are so punched in, when they sneeze it's like a full body convulsion, nasal spray eruption. That said I get grossed out if spit/snot flies on my face, but I know people who will stop short of nearly French-kissing their pets. How 'licky-lovey' comfortable are you with your pets? This is a really random one, so sorry.
Related posts: