Please, Runners, honor my spirit well. 😉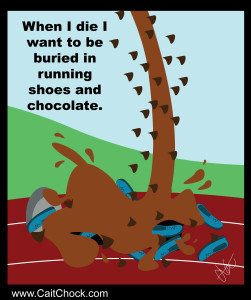 ———–
In case you've missed my BIG NEWS, scroll down about 1/2 inch to yesterday's post or check it out HERE. 😉 #ezzere #runlaughbe #artyrunnerchick
More CARTOONS!!
———-
1) Not to be morbid, but finish the sentence in a humorous way: "When I die I want to be buried…
2) What's your favorite kind of chocolate?
Can't really go wrong, but I love me those chocolate chips inside some pancakes. 🙂
3) What are your running plans today?
Related posts: