Who's ready to run their butt of this September? Scratch that, we already know your answer. But are you ready to run your butt of AND take part in a little September Miles Madness Competition?
Ashley and Cait have made a little bet, you see. Ashley thinks she can find more awesome runners to run more miles than Cait ever could. Cait strongly disagrees and is pretty sure Ashley must just be on an endorphin high. Get two runners with more than a smidge competitiveness together and you can't really expect anything but Miles Madness, could you?
What's the Deal?
Pick a Team: It's a miles war, people, are you Team Ashley or Team Cait? Pick a side by visiting your Team Captain's website and emailing them that you're running for them. Then get ready to log as many miles as you can to help make sure your team comes out the winner.
Run: Need we say more?
Report It: After you get nice and sweaty, email your total miles for the week to your Team Captains; then, be sure to check back to their September Miles Madness home pages for the update on how your team is doing!
Tell Your Friends: Think mob mentality people, the more runners you get competing on your side, the better your chances of coming out the winners. Tweet it, Facebook it, bloggity-blog it, scream it at the person running on the opposite side of the street.
What's in it for you?
Running: Obviously the best thing ever, so really this is just the perfect excuse to get out and move it!
Motivation: Buuuut, sometimes we know there are times when you're feeling 'blah' and need a little push into those running shoes. Consider this your push.
Your Best Running Self: The secret to running your best and improving is…well, it's just hard work and consistency.
SWAG: Okay, okay, yes, even runners get excited about swag and prizes. At the end of the month the winning team will be decided and then some lucky runners from the winning team will be scoring some awesome prizes!! But don't worry, everyone on the winning team will have the satisfaction of knowing they kicked butt this September. And with all that awesome training, maybe a shiny new PR??
Prizes: The loot pot will continue be added to through the month…so keep checking back and if you like what you see, well, go run! Huge shout outs to our awesome sponsors so far:
The Roster: As soon as you join one of the teams you'll be added to the main page's Team Roster so if you've got a website or blog you'd like to have linked up to your name be sure to include it in your first email to either Ashley or Cait!
While Ashley and Cait continue to smack talk, dang, they certainly have a lot of confidence in all of YOU awesome runners out there. They are sure that you'll be able to ante up the most miles this month and finally settle the great debate.
Who will come out the winner?
Which team will prove to be the September Miles Madness Champions?
Which blogger will be left eating their words?
Who will score the SWAG??
Run your butt off and find out! 🙂
Team Captains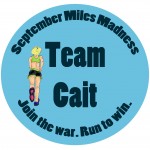 Cait:
(aka The Arty Runnerchick)
Favorite distance: Anything long…I have not a single fast twitch muscle fiber.
Favorite workout: Tempo run
Favorite refuel: Do Pop-Tarts count? S'mores
Favorite pump-up song: The Distance by Cake
Next best thing to do when not running: Art!
Person who inspires you: My younger sister, I'm constantly in awe of her.
Started running because…I stunk so bad at every other sport. So looking back, in that regard I'm thankful for my suckiness. For as long as I could remember my mom had run every day but it wasn't until I was going into high school that I stopped thinking she was crazy for wanting to run…then I joined her. 🙂
I stay motivated to run even on those days when I'm feeling 'blah' by… remembering how much better I'll feel after I'm done.
You should be on my team because… we're going to win! And maybe if I say Pop-Tarts enough times they'll sponsor us and give us freebies.
To Joint Team Cait: Visit www.CaitChock.com and send emails to captaincait@hotmail.com
Team Cait Roster:
Ali @ Running With Spatulas
Antonia
Kate @ Run With Kate
Patty
Amy @ Proud Patriot
Vanessa @ Gourmet Runner
Mark @ Running, Writing and Chasing the Dragon
Kathy
Missy @ Southern Girl Running
Staples
Christina @ The Athletarian
Katherine @ Neon Blonde Runner
Amy @ Raz-ma-taz
Brani @ Faith, Fitness and Laughter
Chelsea @ Chelsea Wanders
Melissa
Dennis
Morgan @ Running [Dharma] Bums

Amy @ Thoroughly Nourished Life
Steph
Julia @ Pain, Pride and Perseverance

Sabrina @ Sweet Southern Sweat
Janelle @ Mummy Loves to Run
Janneza
Runner For Life
Annie
Amanda
Lauren @ Food Running Cats
Heather
Favorite distance: 5K, 10K, half marathon, or marathon. I'm not picky. I just want to run, and each distance comes with its own challenge.
Favorite workout: Intervals. I love me some speed.
Favorite refuel: Anything with calories. I typically run before the sun is up, so recovery food is either a smoothie or an egg dish.
Favorite pump-up song: 'Till I Collapse by Eminem
Next best thing to do when not running: Playing with my kids. Unless they are driving me crazy – then I like to escape for a massage or pedicure.
Person who inspires you: Kara Goucher is my running idol.
Started running because… I originally started running to simply burn calories, but I didn't enjoy it. Then after I injured myself and needed surgery on my IT band, my surgeon didn't think I would be able to run again. Three months later I started training for my first marathon for the purpose of proving him wrong (seriously – don't ever tell me I cannot do something!) and fell in love with it. So I owe my surgeon a big "thank you" for not believing in me. Now I cannot imagine ever NOT running.
I stay motivated to run even on those days when I'm feeling 'blah' by… Knowing how good I'll feel after I'm done.
You should be on my team because… WE will win! And when we DO win, you will have the satisfaction of kicking Cait's team's butt. And I might have extra surprises for you, too…
To Join Team Ashley: visit www.blog.sherunsstrong.com and send emails to ashley@sherunsstrong.com
Related posts: