My very first job when I was in high school was working for my local Fleet Feet Sports, a running specialty store. Here's some things I picked up (along with loving the discount!):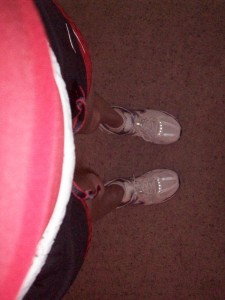 * Not all shoes are created equal. People buy into hype; if you're a 300 pound man looking to get into running, you in a Free shoe has disaster written all over it. So many times I'd have people come in and demand a certain shoe, feel convinced it is what they need because of a craze or commercial. I'd do my best to advise otherwise, sometimes they'd listen but not always and in the end you just have to let them do what they will. I'd be hard-pressed to believe those shoes lasted much longer than a day or two or he didn't come down with shin splints so painful he was crying like a baby.
* Products are meant to sell but the right ones do so for good reason. Like above, companies pay tons of money to market their goods…advertising is an art and a game. This isn't always to say that their merchandise doesn't back up the slick claims and aren't top quality, just that as a buyer you've got to be smart. Do some research, know your stuff, and if you don't then don't be afraid to ask. If you go to a running specialty shop, the good ones will have their employees go through training so they will KNOW what things/shoes/accessories/etc. work and which ones are just hype. Just ask it.
* Know your boundaries. When people came in to get fit for a shoe, I'd ask to see the person walk so I could see what kind of foot type they had. From there I'd be able to offer them the best shoes to keep them injury free. I can't say I love feet, runner feet tend to be gnarly, but with socks on I've got no problem. Even sans socks I don't mind watching people walk. But when a man came in, took a seat, and proceeded to take off his shoes…as he was getting to taking off his socks he asks, "Do you have anything here for really bad foot fungus?" I drew the line. Keep your socks on thank you very much, the anti-fungal treatments are on the shelf over there.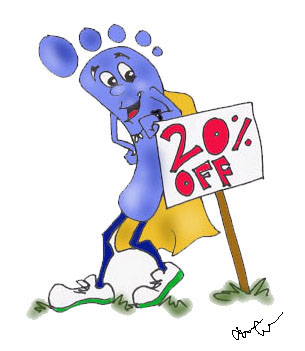 * Loyal customers get the schwag. Local running speciality stores are in competition with the bigger chains that may have cheaper prices on certain things. What you don't get from Big 5 is the knowledge about running in particular; so if you're going in regularly and are nice to us employees we remember that. This means if we get some freebies from retailers or know it's okay to slide a little 10% off discount your way, we'll keep you in mind. I'll call it the 'I like your face' discount.
* Got injuries…we've probably been there to. Runners tend to work in running shoe stores and we are PEOPLE, not just employee droids. If you've got a problem, question, or anything else feel free to engage us in a little communiqué. We can offer up some tips, suggestions, advice, or if nothing else commiserate. Especially if you're knew to the sport, feel free to pick the mind of your shoe fitter.
* Give us feedback.Okay, we don't necessarily want to know that your last run was wrought with excruciating GI distress…but telling us that you did love the shoes we fit you in really does feel nice…just saying. The same goes if you didn't think that shoe was too stellar, talk to us and we can work with you to find another one that works. In the place I worked there was a 30 day guarantee, if you really didn't like a shoe, come back in and we'll refit you and make a swap. Sometimes picking the perfect shoe takes a little bit of work…trial and error. As for which gels or bars taste good, let us know…a particular piece of apparel chafes really bad…let us know. Then we can order the things that people want.
I really did have a lot of fun working in the running shoe store…that said I also feel that at some point in their lives EVERYONE should have to work a customer service type job just for the sake of a reality check. Think of it as a reminder that in the end everyone is a person and should be treated as such…at the end of the day we all lace up those trainers and bust a sweat like you.
1) Where do you get your running shoes, clothes, and supplies?
2) Do you have a relationship with a particular store where you get your running goods?
3) Have you ever worked in customer service type jobs and what have you learned?
4) Do you find feet a little bit disgusting?
I have a foot thing…I just don't like touching them. Don't worry, I include my own nasty running feet with the judgment. 😉
Related posts: