The marathon has been taking up a lot of the spotlight as of yet, but we can't forget that the rest of the 2012 Olympic Marathon Trials are still ahead of us! So, 26.2'er, stop hogging the spotlight, and let the other events get some love already! 😉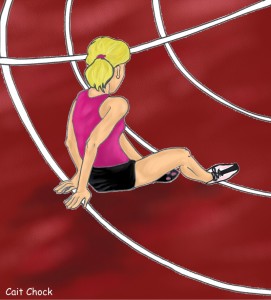 As a whole American Distance running is in a resurgence era…hallelujah! Among one of the big milestones was Jenny Simpson's (nee Barringer) 1500 meter Gold at the 2011 World Championships in Daegu. Quick reminder to those who aren't aware, but it was not since 1984 that a woman took a Gold in ANY distance event at either the Olympics or the World Championships.
Competitor has a great article on all Simpson had to overcome just to get there; a quick recap includes a promising 2009 followed by sicknesses, injuries, and a whole lot of races where she felt like she wasn't able to really show her true level of fitness. As anyone knows, the highs and lows are running can make or break an athlete, but she cross-trained and persevered. She also credits Deena Kastor's Olympic Bronze for the marathon and 2008 Beijing roommate Shalane Flanagan, and her 10k Olympic Bronze, as huge inspirations…I think I would too.
At one of her lowest points, I love how Jenny's husband was able to offer up some tough love and state the truth point blank. "Instead of him putting his arm around me and comforting me and telling me, 'Oh, it's going to be OK,' he just looked at me straight in the face and said, 'You have a lot of work to do. And we don't have time for this.' And that was just perfect," admits Simpson.


Source
Funny how an outside observer may think that as being cruel, but those who 'get it' have to appreciate the man…some situations really suck, you are entitled to a little venting, but after that you can choose to wallow or get proactive. Nice to see Jenny chose the latter and the proof is in the Daegu Gold.
Jenny Simpson's got some big indoor meets coming up, including a 3000m at the New Balance Indoor Grand Prix as well as a 1500m at the Millrose Games. A nice recap of an interview she did is HERE, and in it she talks about goals for the upcoming year (including a repeated medal showing at the Olympics). But prior to the trials she takes aim at the breathtaking time Mary Slaney ran in 1980 at another Millrose 1500m…4:00.08 which was the world record at the time. "I don't know if I'm in a place to say what sort of shape I'm in… but her record is something that all of us aspire (to)"
Bear with me a moment, let's take a stroll down memory track…I met Jenny waaaay back when we were in high school for one of the outdoor championship races. It was a mile, now I don't think anyone could PAY me enough to race a mile…but I'll break my usual rule of not posting pictures of myself (shield your eyes) because it's just too funny not to. People, feel free to tell me that socks that high are totally dorky, but in my defense they were my 'lucky' ones. That said, Jenny was a fierce competitor then and has obviously only continued to capitalize on that.

Back on track…I don't think saying anything more would do the motivation factor any justice; instead, please take a look yet again back at Jenny Simpson's World Championships Gold Medal run. The genuine shock and joy at the end are too priceless even by Hallmark Standards.
———————-
Thank you all for the great comments regarding yesterday's post about the Nike+ FuelBand. I wanted to also give a shout out to Paul Merca, as on his blog he talks about it more in detail, and has some more information about the product…it also looks like he's going to be taking it for a pre-release test run; I'm interested to see/hear how that goes! Check it out!
———————-
1) Are you a big track nerd and follow the races and results? Or do you find some of this cool when you happen to read it and find these athletes inspiring? Or, do you really not care if you don't know them?
2) Have you seen the video of Jenny Simpson finishing prior to this? Did you watch it on repeat a few times and did it get you itching to go blast a killer workout?
3) What are your thoughts regarding the comeback in American distance running? Do you think it has the trickle down effect to us mere mortals? Do you feel that seeing our elites finally giving the East Africans a run for their money inspiring for YOU to reach for higher goals yourself?
Related posts: