Are you sick of hearing about the US Olympic Marathon Trials yet? Not completely over-saturated juuuust yet? Good. Sorry, bear with me because I'm a teenie bit obsessed. And if you keep reading I promise even if you're not a total running nerd (like this girl) I think there are some things you can take away.
The highs and lows of running. I'll tell you right now, there are about six runners (okay more if you count the ones who knew going in they weren't necessarily ever going to make the Olympic team but just excited to be there…I mean that in itself is a huge deal!) riding some SERIOUS highs after yesterday's race…but those numbers are heavily outweighed by the runners who came up short of their goals. The hardest place to come in is 4th…mentally you go through every single second of that race and try to figure out if there was ANYTHING you could have done differently to have changed the outcome.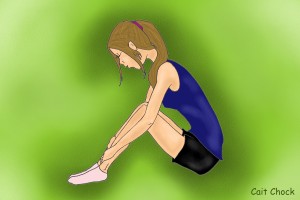 Six runners are riding incredible highs. How many are experiencing some serious lows? This is not to be a pessimist, merely a realist. Running is a very tough sport, even the men's winner Meb Keflezighi says, "When the camera's not watching, when the newspapers are not there, we work very hard at what we do. It's not easy … there are so many obstacles as distance runners that we face … We work very, very hard at what we do. When the opportunities come, you take them … If you believe and work hard and do the right thing, (then) God has a good plan for me." (Even third place finisher Abdi Abdirahman has been overlooked in recent years despite being a top runner for years.)
Distance running takes an incredible amount of work and dedication. The majority of that will go unnoticed; if you never did it only you would know, save the eventual outcome if you continued not to do it. Even if you do every single thing right, you could wind up with an injury right before the big race, you could feel totally flat after the gun, or get to mile 16 and have to stop because of cramps. You NEVER know. This isn't just for the marathon distance, but to a degree everyone who toes the line is an equal. The heavy favorite is not a lock-in and an 'unknown' is one race away from an underdog upset. Ask Billy Mills. Heck, ask Meb.
The DIFFERENCE though between the Meb Keflezighi's and Joe You'll-Never-Know is persistence in the face of this. The difference between Dathan Ritzenhein and Joe I'm-going-to-give-up is being able to turn those incredible heartbreaks into motivation to keep on going, "Maybe I'm forcing it. Everybody wants me to be a marathoner, and I want to be a marathoner, but right now maybe it's not in the cards. Maybe it's just not there. Maybe I've just got to turn my attention back to shorter distances." [Article source] Yes at the Beijing Olympics he placed 9th but he also once held the American Record for the 5k and has immense talent in the 10k and half-marathon as well. "I'm going to turn my attention back to the 10k," he knows his chance of still going to London are far from gone. It's just that his focus has to shift.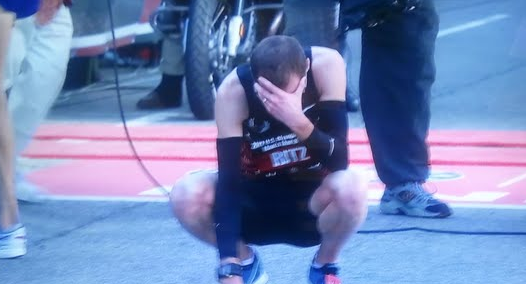 Source
I'd like to pull our attention back to 36-year old Meb for a moment. Going into the race if you read some of the articles or even worse message boards, there were some pretty cruel nay-sayers. Now, I love Nike as much as the next person, but if you happened to take a look at the shoes Meb was rocking on Saturday they were hardly a brand you'd associate with elite runners.
Meb was being sponsored by Sketchers. That kind of says it all. Though, he held onto the belief in his ability as well did his coach for 18 years, Bob Larsen. Meb is open that had it not been for his coach's belief his own may have wavered.
The highs and lows of running. Even the strongest athlete faces times where they are unsure if they can or should keep going. In those moments of doubts it helps to cling to the memories of the highs and find a person who still believes in you. A coach or friend who understands what running gives to you and that if you gave it up you'd probably look back with a regret.
This applies to all runners, not just the elites. You don't have to be vying for an Olympic team or Gold Medal to contemplate hanging up your shoes. There are highs and lows of every level.
The sting of a bad race. The gash of a string of bad races or seasons…or years.
Injuries. Getting through an injury is just as much a mental test as a physical. Dathan Ritzenhein was out of running for 6 months last year, some of that time he couldn't even cross-train. But he kept going and was THIS close to pulling off the incredible. Actually he still DID pull off something incredible and there is no reason to ignore that. Alberto Salazar, Dathan's coach, looks back and says, "Even if he had just made the team by the skin of his teeth, what's he going to do in London? In the 10K, he has a chance to do some great stuff."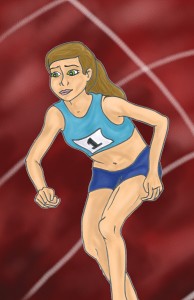 Maybe you don't even compete but have been out with an injury for an incredible amount of time and think it may just be worth it to not even try to get back.
Pressure. Stress. Loss. Highs. Lows. All runners have them. Sometimes you do need to take a step back and think about WHY you do it. Reassess and shift your mental focus. True, you just might not wind up meeting a goal you've been chasing for years, but in the end it comes down to what your life would be like without all of those miles. Would you rather be that person? If so, that's okay, but if you know if your heart you'd miss it and harbor regrets, then keep going.
Run without regrets. And if you're not able to run yet…cross-train, visualize the goals that lay ahead, and take it one day and then the next. Your goals may have to change and evolve but you can keep moving forward.


Source
Cherish the highs because they are far and few between…not pessimism but realism.
Our sport is made of highs and lows. Being a runner means having the strength to keep going after the lows.

1) What's one of your running highs?
I enjoy setting a PR. 🙂
2) What was a low? Or stretch of lows?
Does it sound too cliched to say being hit by the car and riding the sofa for months and months wondering if I'll be able to walk again? 😉
3) Why do you keep running?
For the sake of my own sanity. Obsessive Compulsive Runner out.
Related posts: