I'm not usually one of those addicted to Twitter, but this morning had me doing the instant updates. Thanks to NBC's little monopoly over any live video feeds of the US Olympic Marathon Trials, going viral was how most of us could get any word on what was going on in Houston.
By now the world knows; for the women the team is Shalane Flanagan, Desi Davilia, and Kara Goucher. For the men it's Meb Keflezighi, Ryan Hall, and Abdi Abdirahma.


Source
In what has to be the deepest women's field to day, we see a 2008 Bronze medalist in the Olympics not even make the team. Over the last nine miles it came down to a four person race for three available slots and in the end it was Amy Hastings who, while putting in a valiant effort, was left with the heartbreaking 4th placing. Still, if you look at the progress she's made in recent years you can't deem it a failure…more that the field was just THAT good.
All the pre-race bettors were pegging Shalane, Desi, and Kara as the top three favorites but the marathon is a long race and there are no sure things. In the end, I'm partial yes, but I'm overjoyed that Kara Goucher will be making another trip to the Olympics.
For the men, the word beast has been flying around regarding Meb Keflezighi's race. At 36 years old plenty of people were saying he was too old, past his prime, and out of the game. Ryan Hall appeared to be the one to beat, in fact there was some article was quoted as saying, "Hall could walk the last .2 miles and still win." Ummm…I don't think that was accurate regardless, but everyone likes to cause a stir.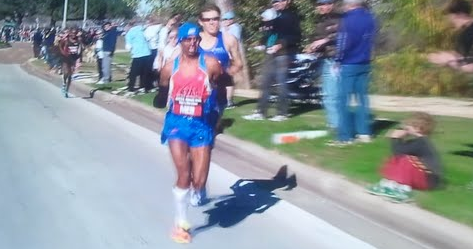 Source
A late race surge by Meb proved you should never count out a champ and while it may have been a while since Meb's distance running dominance days, he's proven he's back and those days aren't behind him…he's now got a marathon PR no less. Ryan Hall hung on for second, and Abdi rounds out the team…but what is almost hard to look at is the post-race finishing picture of fourth place, Dathan Ritzenhein. He missed third by a mere 12 seconds.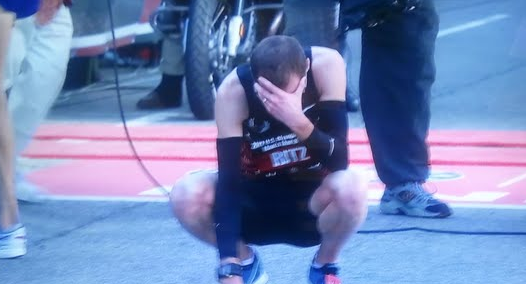 Source
I have to admit I was really pulling for him to make the top three…the poor guy has had one heck of a year between injuries and infections. He's one of the most mentally tough runners I've ever seen and I really hoped his day would come. Though, as Meb proved, he's got years ahead of him and while the sting is incredibly raw now, surely it will act as motivation in the future.
As in any huge race, there are those that rise to the top and really step up their game…whether or not it's a top three birth to the Olympics or not. Just in getting to the starting line these runners have much to be proud of. I don't know about you but they've all supplied plenty of inspiration and motivation to make every day count!


Source
1) Any thoughts on the Trials? How did your pre-race picks or anyone you know end up doing?
I did call the women's race right. 😛
2) Did you look for online updates or are you waiting for the race videos set to go on in a bit?
3) Most inspirational piece you can take away from these races?
I'm torn between Meb and Kara. Meb, so many people said he had no shot in heck…but he never gave up and pushed it baby…he's a beast! Kara, she's been through so much this past year, but I knew going in that she's got the heart of a champ and runs with no regrets…if it was in her legs today I knew her heart would pull her through.
Related posts: