Well, it's to stuff our runner faces of course!


I jest, I jest…well, at least to a degree. I bring this up not because my stomach is alerting me it's definitely lunch time but because I'd like to direct you to a fun new cartoon that will be periodically featured over at
Skinny Runner
. Yea, that's right, when in doubt outsource your work to the REAL blogs out there, the heavy hitters. 😉
Just kidding, actually her blog's hilarious so go check it out if you haven't yet. And today you'll see the first Skinny Runner Comic being featured. Go now, I'll pause for just a minute…
…so in keeping with the theme there, what do you run for, when your mind starts to stray to the salivary glands among those miles? When some sweat drips over you lips do you pretend that it's really some pizza salt?? I'm more of a sweets person myself.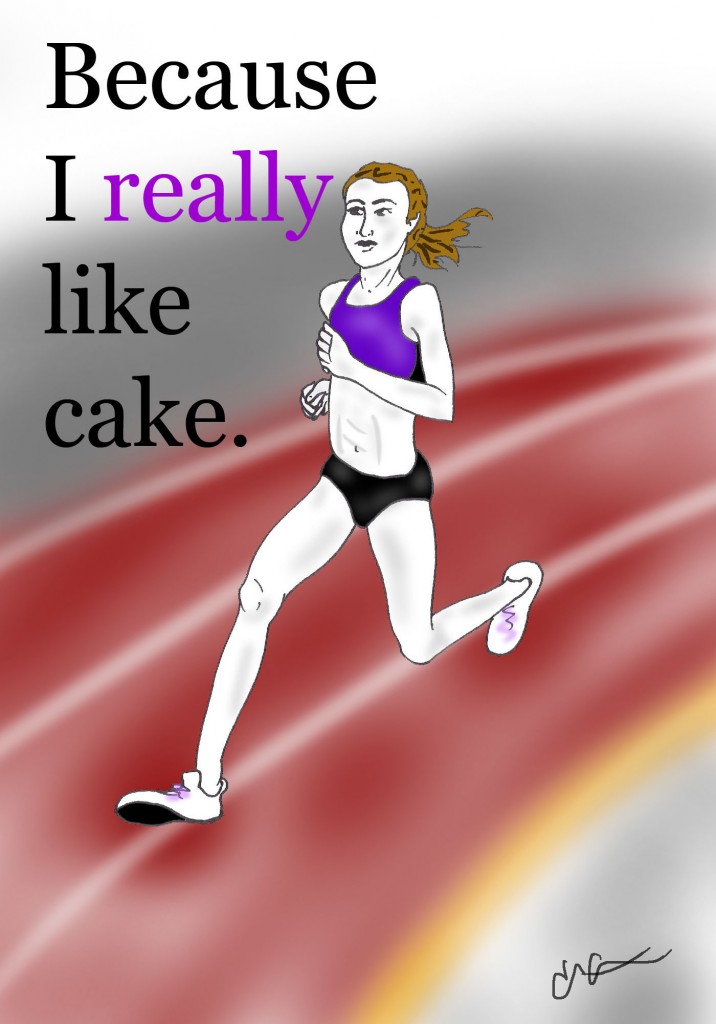 ———–
Runner nutrition is very important, and while of COURSE we all love to stuff our faces we do need to remember that fueling our body right is directly linked to our performances. Moderation and balance and all that. Here are some past articles tackling running nutrition more seriously:
Going Gluten Free
Is It Really That Bad?
30 Minute Post-Run Refuel Window
Timing Your Fuel and Limiting the Running Variables
I LOVED to see how many of you really connected with yesterday's post; I got more comments, messages, and tweets than I typically do which goes to show just how much EVERYONE thinks about body image. And the men too…I didn't mean to disclude them at all, because runnerdudes have the hang-ups just like the runnerchicks. But the bottom line is that running has helped us all gain perspective and while it's probably impossible to ignore them completely, remembering that if you're blitzing by someone, as you run past who cares if you're calfs are skinny, your thighs have a dimple or two, your waist is a box, you're AAAAA or DD, or your man-pecs are on the tinier side? I'm pretty sure you just kicked some runner @$$. 😉
———–
1) When the mind wanders to foodage during those runs, where does it go?
2) How do you balance the good stuff with the GOOD stuff in your diet? Haha…I think you know what I mean.
I do eat healthy, not just Pop-Tarts and ice cream, my little brainworkings are: 1) aim to reach my protein goal for the day (the carbo's are way easy for me to fill that quota) 2) get my fruits and veggies 3) then whatever is 'left' can be the 'fun' foods or make sure I get enough of the calories.
3) That said I know some foods cause a LOT of GI distress and can make your body feel like total crap. What are some foods, even if you may like the taste, do you avoid?
I thank the heavens above that I'm not gluten-intolerant…that's all I have to say.
Related posts: