It seems like the running community has been on fire recently, or maybe it's just their psoas muscles that have been on fire. The psoas; yes, I just like writing and saying this term, try and rattle that one off five times fast.

So why is it such a hot topic among the runners I've talked to as of late? The thing is, most runners don't even know they have a psoas, or that they even have TWO, until they start getting these weird deep, stomach pains. Sometimes it's lower back pains, or the pain is around the hip area. The fun that is sciatic can stem from the psoas, and even your knees or feet could be screaming at you thanks to the psoas twins and the
imbalance chain of reactions.
The psoas is a very deep muscle attaching at your lower/mid spine and then running across the hip to insert at the top of your thigh (femur). While most of us are unaware of it, it is pivotal in our running; it is a major player in each and every time we lift our leg off the ground in stride. It works not only as a hip flexors but in holding proper form. Since we established it inserts at the spine, having a tight psoas can lead to hunching over; the same hunch in everyday life can lead to back problems. Through the wonder that is the body's chain reaction of imbalances and weakness, a wonky psoas can lead to knee problems and others that you might not naturally assume stem from a deep, core muscle.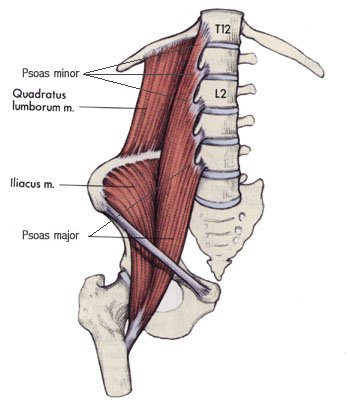 Source
What's a runner to do?
Fist of all, know you have a psaos on each side of your torso(I'll like you more if you say it five times fast) and then be aware that more than likely your's are tight. Just the act of running tightens that psoas up and you're probably not stretching it as much as you should. My best friend is a massage therapist to elite and mortal runners and he's always telling me how no matter what, 99% of the time the second he digs into an athlete's psoas they start squealing. The psoas is like a little slumbering bear, it can be super tight without you knowing if for a long time until it suddenly wakes up and you're stuck with an injury.
Stretches, Exercises and Massage, Oh My!

* Core Work: Having a balanced and strong core will keep you ahead of the psoas game; I really like the pedestal core routine I talked about and demonstrated. When you do those reverse planks with the leg raises you'll note that psoas is doing its work there! 😉
* Psoas Stretch: Get down on your knees, keep your right knee planted and then step your left foot in front of you so that the left thigh is parallel to the ground. Raise your right arm up over your head, slightly lean your torso back and begin twisting a few degrees to your left. You don't need to twist much at all, but you want to feel a stretch deep in your right hip region. Hold here for at LEAST 20 seconds, preferably more and if you're just sitting watching TV that is a perfect time to give your psoas some love. Be sure to repeat with the other hip.
* Massage: I did a whole article/post on self-massage techniques but before I get to it I need to remind you: self-massage works because we can't all afford a pro all the time. However, they are pro's for a reason so we need to be informed and SMART when we massage ourselves.
DON'T think more pain is always a better massage.
DON'T massage a muscle the day of a strain, pull or trauma. Give it at least a day to 'cool' off, you'll only do more damage if you start digging in there.
DO gradually work into more pressure. Think of like how you warm-up before a hard workout.
DO know your limits. Sometimes you just need a pro, 'nuff said.
For the psoas, just lie straight back as you would before you zonk off to sleep, take your hand and gently knead the muscles, run from the top of the hip and up along your side. Work into adding more pressure and stop and pause, holding direct pressure, along the way. Don't do more than 5 minutes at a time on each of your psoas muscles. And if you're especially tender remember to ice afterwards for up to 15 minutes.
So have you been schooled in the psoas? I hope so. Because it's better that this be a hot topic for you to read and learn about before your psoas becomes the hot, beastly demon screaming at you and forcing time off! 😉
1) Have you ever had psoas issues? Have you ever had anyone tell you that your psoas is tight?
2) Do you do much self-massage on yourself? Are you lucky enough to get in and see a pro very often?
3) What has been a hot issue you've noticed lots of runners talking about as of late?
Related posts: