Fun fact: virtually anyone who's been running for at least a few years is always in some kind of pain. Not the everyday grinding it out, 'that was a tough run' type of pain, I mean in the sense of they are dealing with something.
For some it's their achilles, tendonitis here, tight hamstring there, annoying adductor you are forever the pain in my @$$. You see, once you accumulate a certain number of miles your body starts to send you its own little 'thank you notes' in the form of niggling annoyances. Thank you, I love you too body. If you're getting these thank you's…hello, and welcome to the club.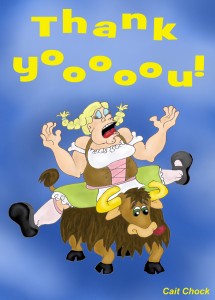 I thought of posting this because of a conversation I was having yesterday with some of my best friends; one was asking about the 'seriousness' of feeling one such 'thank you note' and the conversation ended with, "The truth is, everyone has those things, I don't get nervous until they start rating at least a 5 or 6 on the pain scale." To sum it up: if you took time off for EVERY single nuisance for fear of it turning into something serious, you'd never get a run in.
Of course, this is a little 'tough love' saying, so let me put the obligatory disclaimer here: of COURSE you have to be smart enough to recognize the difference between the real pain of an injury (or onset of an actual injury) and just the dull sort of pain/ache that consistent training will cause. Back to our little pain scale, if you're hovering below a 5 (say a scale of 1 to 10, with 10 being excruciating you're about to cry every footfall) I don't get too worried. Do a little self-treatment and go on your way.
Yes, this is coming from the person that probably errs too far on the, 'I will get my workout in come h-e-double hockey-stick or high water,' heck I was temped to pop back up and keep on trucking after being hit by a car until I looked down…oops, blast those bones sticking out I guess that may put a hamper on my stride! BUT, there is a common ground here.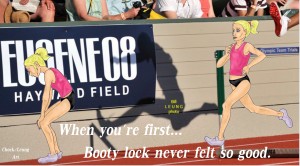 A few weeks back another friend said, "The weirdest thing happened to me on my run today, I felt really junky that first mile but then after that had a really great run."
I replied, "What?! Is that the first time that's happened to you?! Every first mile feels like a slap to the face…it takes a bit to warm into it, I look like a geriatric that first mile!"
You see, I love running. But she is a fickle little lover. She gets really testy and makes me work for that first mile, prove that I am in fact committed. She likes to send me these 'thank you notes' that I'm really not all that thankful for, but like I good partner I just roll my eyes and put up with her because I know in the end she makes me a better, happier, saner person.
1) What is your little 'thank you note'?
The aforementioned adductor circa 2002.
2) When do you start actually worrying that it might be something serious?
In truth there is always a part of my brain that shouts, "What the heck, THAT is new, is it something?!" But I talk myself into rational mode and assess the situation. Usually it just goes away, and I don't really get worry-worried unless it's at least a 7-ish.
3) What are you looking forward to this weekend?
Related posts: