Do you see it? It's my curmudgeonly, scowly look of utter disappointment. Why? Well, for reasons that I can't fully explain (one, because it's a long backstory and telling it might wind me up with one of those cyber-faux pas where the thing you write about gets back to people you don't want it to…second, because it's sort of ridiculous to the amount you might not really believe me) I missed out on a chance for a real, live, in the flesh froyo date with Margs!!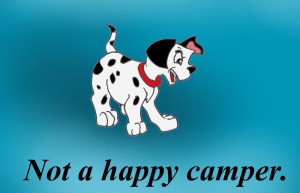 Margs, you may recall has shot to worldwide celebdom for her role in TO YOGURTOPIA WE GO (how many times am I going to link that fairy tale, well for the time it took me I'm gonna milk it for all it's worth…haha) and I was excited to learn that this SoCal living bunny was bopping around my neck of the woods for the weekend. But thanks to crazy events we weren't able to make it to froyo bliss. 🙁
Don't try to get all smart and figure you'll pester Margs for my lame reason, partly because she's got WAY cooler things to think/talk about than me, and second I pulled a Men in Black move and her memory is partially erased. I will say I was happy we at least did get to phone chat, and I hope my fast-talking chipmunk voice hasn't left her deaf in addition to having a memory fugue.
Why so late a post? Sorry folks, internet still wonko on this side but I'm able to mooch a quickie blog post off of the internet at my parents' house.
Next on the agenda, so I've spent quite a lot of time these past few days working on a project for my old high school's cross-country and track teams. It's a running log, something I think is not just really fun to have so you can look back on and track your progress, but it really is important to keep. Why you ask? I'll tell you…
Even if you aren't necessarily training for any big race, logging what your workouts are and what you're doing can keep you on track and motivated to actually DO your workouts, you can reference it when you are feeling sore/sluggish/overly tired and look back at previous weeks' workouts to figure out why. If you wind up injured you can look for signs of overtraining, then later should you come down with another injury you can look back to what you did then and do your best to cross-train and stay in shape.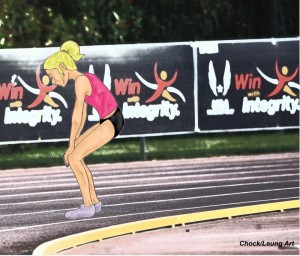 People write all kinds of things in their logs, to varying degrees of detail, some people write how much sleep they get, when they feel sick, if they changed a workout their reasons, how they felt in their workout, replay a race, of course PR's…the color of their poop…just kidding, just wondered if you were still with me. But all of this is useful and important info…oh, and making notes of when you switch out for a new pair of shoes so you remember to change them!
Anyways, anything I do I like to try and make it unique or at least a little better than the bare bones, so I have included lots of articles, quotes, and so forth. So I got to thinking, if I were back in high school, what would I have liked to read about, learn, or hear tips on? I put in things about stretching (when to do it/dynamic vs. static), mental ways to trick yourself into believing that it really doesn't hurt as much as it does, things on goal setting, refueling right and such.
I think one of the best quotes I've ever gotten was from a coach whom I respect to no ends is this: "Stay the course." Ya, there are tons of other quotes that I really like and are classics, you've got Pre's quotes and other words from legends that are longer and more colorful, but I like this simple one because it is so true in running and in life.
In running, there are ups, downs, sideways, and stallouts. But what separates those from quit or lose their love of the sport from the people who are runners into geriatric years are the ones who just simply keep doing it. They know and accept there are going to be tough times that suck, but getting through those makes the sunny periods all the more special.
In life, it's the same thing, and we all get dealt some shiznit, but you just gotta stay the course. I've said this to myself tons of times, and not going to even try to lie, usually when I've said it I'm: 1) on the verge of a mega-girly-style breakdown and about to cry…one time that comes to mind was when I was on this horrid stair gauntlet climber cross-training and had been injured forever 2) fuming at the mouth because I'm SOOO irate at whatever 3) feeling so hopeless I have nothing else to do but just hope that things will in fact get better. So for me it's not even about necessarily always believing at first that staying the course is the right thing, but knowing it's the ONLY thing to do.
Wowza, so didn't mean to turn this post into a preachy thing, really I tend to just sit down and type and see what spews out. Winding back to the training log I'll ask you guys some questions: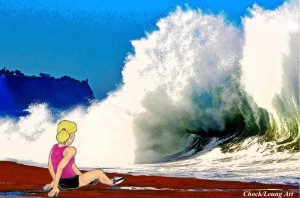 1) Do you keep one?
I do, and now it's a habit, I mean I tend to do really the same sorts of things (I know I need to mix-it up, really I do!) but I guess you can't fight a habit.
2) What is a piece of advice you would have liked to hear about running/working out when you were younger?
3) What's one of the best pieces of advice you've ever gotten?
4) Can't end sappy, what is one the funniest random quotes you've heard? And do feel free to take it completely out of context!
This one leaps to mind because it just happened, and I'm blanking at the moment. I didn't want to post it because I don't want to seem like I'm a perv, but this was said dead-pan and in total seriousness by my mom: "I don't know what a cat penis looks like, I'd have to Google it." Later common sense took over and the realization set in that *duh* if you Googled that you'd definitely regret it!
Related posts: