Oh what a difference running crazy amounts of miles in training makes. Come time for that post-race break those racing shorts…errrr, 'shoes' may be fitting a little differently! 😉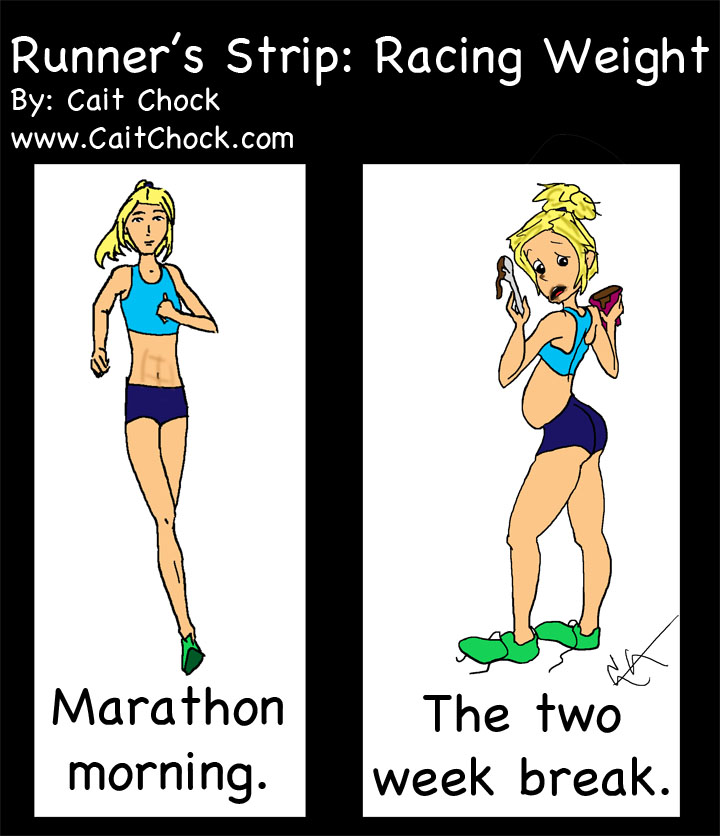 Sunday morning deserves some running cartoonage! That being said, we can poke fun but one needn't get TOO would up over some post-race 'love' weight, giving the body a chance to recover is incredibly important and your racing will be much better off in the long-term.
On the flip side there is a difference between recovery and gluttony…haha. As with most all things in running and in life, it's all about balance. Now, pass this runner the Pop-Tarts! 😉
——-
POST on fueling for races.
POST with tips on runners eating out.
POST on the importance of the 30-minute refuel window.
POST on timing your fuel to best support your running performance.
Get more Running Cartoons HERE! 🙂
——-
1) When it comes time to break after a race or season, do you eat differently?
2) What are some of the things you do to give your body some TLC to recover after hard races or between seasons?
3) Favorite thing you treat yourself to after a great race?


Related posts: