It's no lie…sometimes you just gotta take a cue from the Turtles.
😉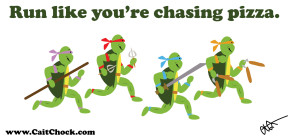 —–
Fancy that, another train of familiar characters getting their run on…sorta reminds me of THESE LADIES!!
More Morning Running Motivation Posts And Art
—–
1) Who here is also a real runnerd and Turtles fan too? 😉
2) What were you chasing this weekend?