Let's be honest, shouldn't runners ALWAYS have the right of way? 😉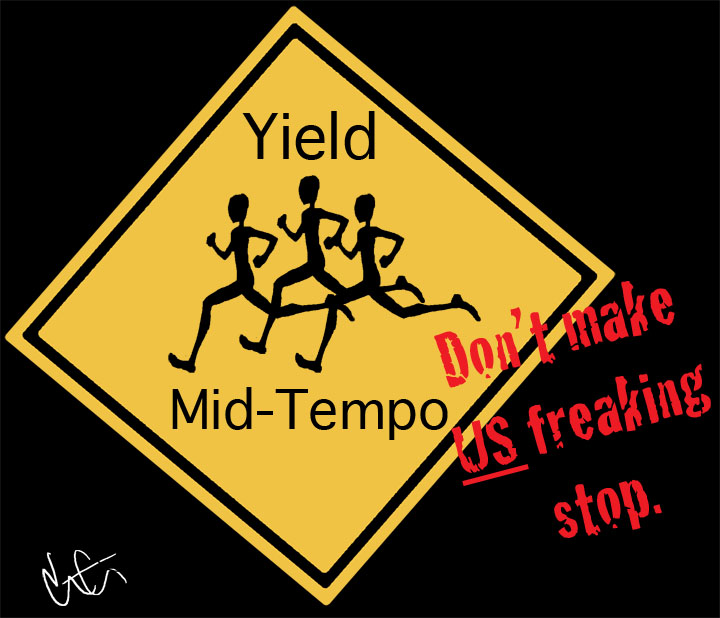 **I'll put my disclaimer here at the onset so as to avoid any emails or comments reminding me about how important runner road safety is: ALL RUNNERS on the road need to be incredibly safe and conscientious of their surroundings. Awareness is imperative because most drivers not all drivers pay attention. I got hit by a car, it wasn't fun, but I also know I wound up lucky because these accidents are far too common.
That said, I've professed my love of sarcasm and snarkidtude.
There should be a special kind of light that senses oncoming runners and automatically configures the stop lights accordingly. I mean they do it for fire trucks and ambulances, right?
That goes exponentially when it comes to actual hard workouts and tempo runs if you're not blessed with a bike trail or a track to run them on. "I'm sorry, YOU are going to have to just honk away because if I stop now my heart rate will dip, thus negating the point of this tempo run."
If I started just putting this random sign up do you think people would mind? It's not tagging, and I mean runners would sort of be a 'friendly gang' if it were considered as such anyways.
Alas, alas, where's the respect? Apparently getting to their jobs, making it to Starbucks for their fix, and Driving Miss Daisy has got people too impatient to give every runner, every time, everywhere the right of way. 😉
———
Revisit my post on Road Running Safety.
———
1) Ever had a driver actually stop to let you pass when the didn't have to.
Actually the STRANGEST thing happened to me once running in Seattle. There was no enforced traffic signs on a road, I saw a bus coming so started to stop to let it pass by, but the driver caught my eye, put on the breaks, STOPPED, and waved me forward. It was surreal, I'm sure I could almost hear the passengers complain, but I waved a big thanks! Haha.
2) Do you do much of your running on the road and around traffic? How do you stay aware and safe?
3) Do you run with an iPod or music when you're on the road?
No, but I never run with music
4) If I put up this sign how fast do you think other people would take it down? 😉


Related posts: