Running is tough. Racing is tougher…downright painful. The brain has a funny little way of dealing with that pain, it gets sneaky and tries to coax us into slowing down.
Runner Brain: "I want to run a PR, dang this hurts, but I'm going to put the work in and stick this out."
Annoying Tired Brain: "Well, fine, if you're not going to listen to my complaints and willingly slow down I'll just find other ways to trick you into it!"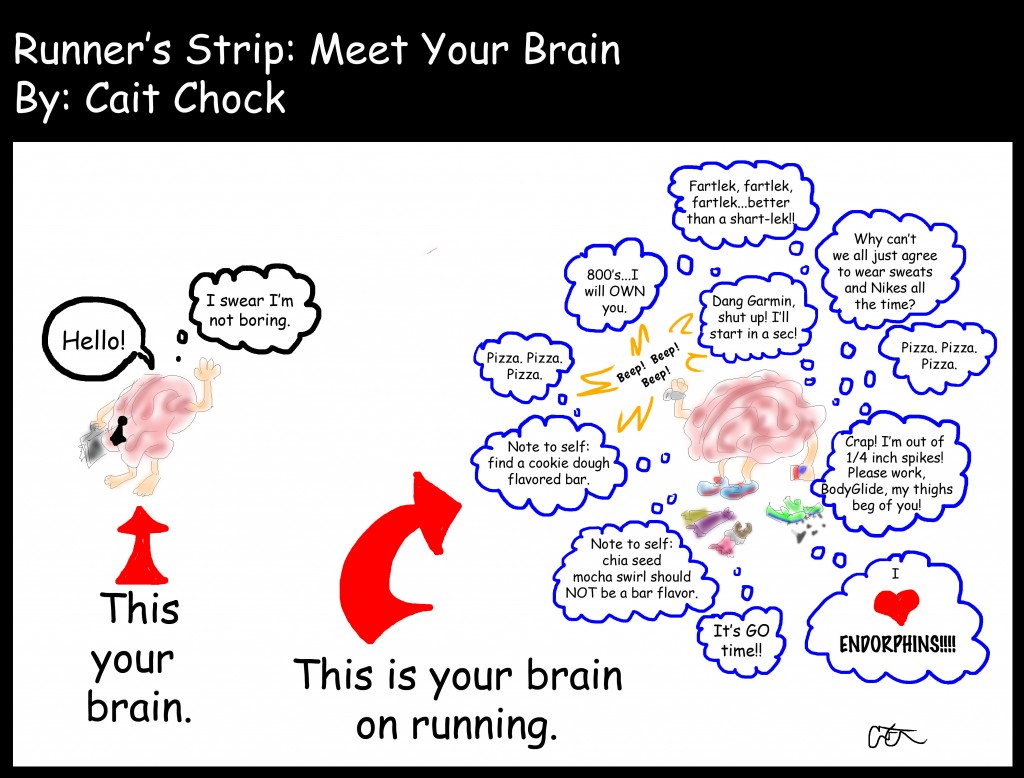 Oh the brain, you slippery little eel, you.
* Self-Defeatist Thoughts: This would be when you're running and your mind starts screaming in your ear, "You seriously can't keep this pace up for any longer."
* Dwelling on the Future: This is when your mind has on repeat, "Umm, and HOW much further do you think you're going to be forcing me to do this? Think again buster, you CAN'T last that many miles more!"
* Bargaining: When your runner brain and your sane tired brain get into a war, your lame-o brain argues, "C'mon, just ease up a little, trust me you're not going to feel guilty or regretful about it, just ease up." This is also known as a lie, because your runner brain knows you'll feel regretful.
* Wandering: This is when your brain full-on goes on vacation, if you catch yourself mid-race thinking, "Wow, I really like the zebra print on that lady's shirt, you see her, the one sitting on the 20th row of in the stands."
A Wandering Mind = A Slowing Body

See, when the mind decides to check-out and wander like that what inevitably ends up happening is the pace starts to lag. Running through pain takes a special kind of focus, focus on forcing yourself to relax, to keep pushing, to stay ENGAGED in the race.
When your mind wanders it is sneakily distracting you from the battle race at hand. My latest article at Competitor.com is all about staying focused during a race so you then, race your best: "Got a Wandering Mind? Here's How to Stop It"
Read the article, but I'd like to add that a wandering mind is much different from zoning out during a race.

I've talked about how zoning out is a mental trick to pushing through the pain.
Zoning out:
* Locked Eyes Ahead:
Find a runner ahead of you, stare at a single spot on their back and refuse to let any distance open up between you and the spot.
* Breathing and Form:
When you zone out you think only of the tangibles you can control and NOT the pain from lactic acid. Thinking about standing tall,
keeping your form in check,
and breathing controlled are all tangibles to think of.
* Think Relaxed:
When you zone out you want to
let go of any tension;
don't have your fists and jaw clenched, don't have your shoulders in your ears.
Finally, zoning out is the epitome of being ENGAGED in the race, you're single-mindedly in it.
A wandering mind is where you're brain is anywhere but in the race. It is, in reality, just a backwards trick that your tiring brain is using to get you to slow down.
Don't fall for it. Running often comes down to mentally 'beating' your own brain. Push past the pain, get through those intervals, drive for the finish line, and stay present in your race…because THAT is how you improve as a runner. THAT is how you set those wonderful PR's. 😉
1) What is an example of a trick your brain has tried on you to get you to slow down?
2) How do you one-up that slippery little eel of a complaining tired brain?
3) What is an aspect of zoning out? How do you stay zoned during a race and stay ENGAGED throughout?

Related posts: