For once my running cartoons will be used and I'm deathly serious. Stretching, Runners, is no joke. I used to HATE stretching, I'd do it begrudgingly, but ever since my little revelation in Boulder I've pulled a total 180.
Now it's good too because I don't have a little bit of guilt writing about and telling runners just how crucial stretching is. I'm practicing what I preach, yo.
Areas that rank most common across the board for running injuries and the areas that runners are notoriously tight in are: the hamstrings, glutes, hips and groin region, and the psoas. I took my cartoons and put together a quick stretching routine that you REALLY should be doing as much as possible. Like daily…I'm doing them daily, so now I can say, fully absolved of any lingering guilt, that you should do the same. 😉
[Click to enlarge so you can read text…but please respect a starving artist's work, you can always purchase prints, contact: cait@caitchock.com]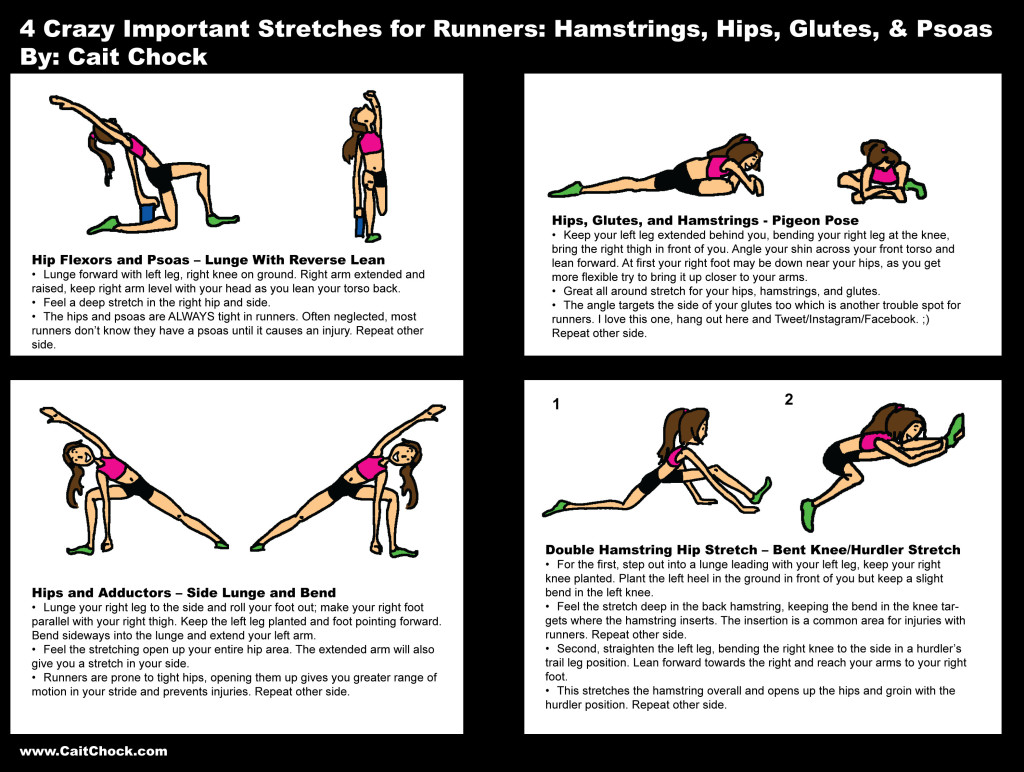 ———-
More posts on flexibility HERE
And a post on WHY flexibility will make you faster HERE
———-
1) How often do you stretch? Be honest. 😉
2) What's one of your tightest areas?
Hamstrings and adductors.
3) What's something you kinda feel a bit of guilt about when you tell others to do it because you don't always follow that advice yourself?
Related posts: