"One of the fastest ways to improve is to train with someone better than you." So is written by Matt Carpenter on is site. True words from one of the greats.


Source
In case you don't know who Matt Carpenter is, a quick background would include the terms: 'The Lung', 'Pikes Peak Legend', 'Trail Running Dominance', and 'Ultra Running Anomaly'. The man has won the Pikes Peak Ascent and Marathon a total of 18 times and holds the course record for both. His is especially adept at altitude racing and running, hence 'The Lung' moniker attributed to his ability at hypoxic running. Currently he lives in Boulder, CO and still has an ongoing love affair with trails.
Interesting though, that while he lives near ample miles of beautiful trails he busts out two of his hardest workouts per week in his garage. On his $10,000 treadmill no less. I can't delve too much into the treadmill bit just yet, it's in working on some magazine articles that I ventured down it to begin with, but Carpenter's reasoning for sticking to the 'mill are quite simple, "It does not care what the weather is like, what time of day it is or even how I feel. Without exception my best seasons come after I spend the winter running with 'Q' on Tuesdays and Thursdays."
'Q' is capable of humming along at 3 minutes 20 second per mile even at a 25% grade. Carpenter has tripped too many treadmills in the past so he invested, he won't need to worry about such things with 'Q'.
If you want to get better, you have to be pushed by someone (or something) better than you. You have to be pulled along when you're hurting, you have to be dragged along through the pits of pain, hang on, and keep going. Then come back for more. Why do you think racers enlist rabbits or pacers? Or athletes will seek out groups where they will be at the back of the pack?
The Africans are different from US athletes in that they all train together. Here we may have a smattering of groups but it's not like it is over there. They get up, run together, eat, rest, run again…repeat. Together they train (and suffer), together they improve.
In a great article on Kara Goucher at RunBlogRun, she is quoted, "When I'm with a group of women, they don't care if I've been up all night. They're hitting the pace, and I'm going to get left behind if I don't have the pace." This is in explanation of a recent coaching change where her newest training partners are Shalane Flanagan and Lisa Uhl. Heading into the US Olympic Marathon Trials, two of the favorites are training partners. You can bet they push each other to be their best.
It works on all levels; you don't have to be an elite runner to benefit from being at the back of the training pack. So find runners, seek them out.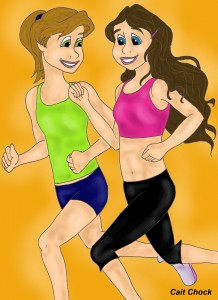 * Running time warp. If you're graduated from high school, don't be shy, go talk to a local team's coach. When I was in high school we had a few awesome adults come out there and sweat out our interval sessions with us. Trust me, you could be surprised at how much fun it is taking a trip back to high school…runners are generally less annoying than typical 'mean girls' and they won't make you sing Justin Bieber tunes. (maybe)
* Running clubs. Go to a running shoe store and ask if there are any local running clubs; many meet up during the week outside of going to races. Honestly, if that isn't an option just ask the running shoe people at the store…I'm sure they can help you out.
* Treadmill befriend. Like Carpenter explained, the treadmill really doesn't care if you're hurting, it won't back off unless you physically make it. I've come to like tempo runs on the treadmill because you can just zone out and not worry about the splits, they are taken care of.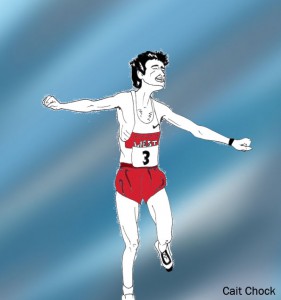 If you want to improve, often times it takes being the little fish in a big pond and then rising the ranks. What you DO have to be careful about, and I am going to stress this a lot: RESPECT YOUR RECOVERY DAYS!!! Was that clear enough? To build your fitness and strength you have to tear your muscles down with hard workouts, but you then have to allow them time to recover and rebuild.
That means if you have to run all your easy days by yourself so you're not tempted to run too hard, do it. The most important aspect of getting faster is being able to hit your hard days…the runs in between are just getting time on the legs, recovering, and getting in the cardio. Don't tire yourself out on the easy days. You have to strive to get better but also remember you must walk the fine line between pushing and NOT racing in every workout.
"One of the fastest ways to improve is to train with someone better than you." So is written by Matt Carpenter on is site. True words from one of the greats.
1) Do you run by yourself, train with a team, meet with a group? Do you meet only for hard days?
2) How about treadmill running; have you tried any workouts on there or do you like the track, the garmin, heart rate monitor? What keeps you accountable and pushing?
3) Would you rather be the fastest person in the group or team or at the back/mid-pack?
I like to have other people faster than me. If you've 'outgrown' one group, maybe it's time to move up to another and re-introduce yourself to the back of another pack? 😉
Related posts: