Sometimes it feels like it can take an eternity before we actually get out the door for that run. Between taking care of all those creaks and squeaks, making sure the 'guts' and bladder are ready to roll, and WHY does that darn Garmin sometimes seem to be looking for that darn satellite by way of hot air balloon?! This doesn't even take into the account the times where you know you're purposefully stalling…c'mon, you really don't need to check Facebook AGAIN. 😉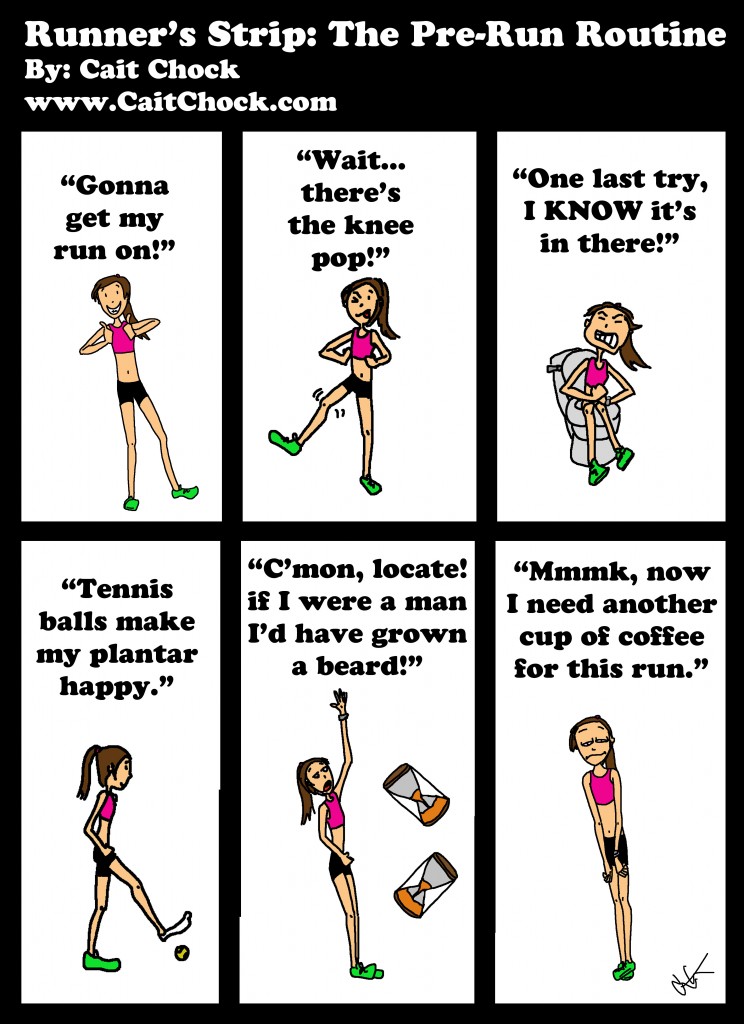 It's true, the runner's pre-run routine may snowball at times, BUT I'll tell you what, I like to run first thing in the morning and I'm also a total sucker for wanting every ounce of sleep so I've pared my routine down to about 10 minutes between eye ball crusty wiping and hitting the road. Here are some of my quick tips:
1) Lay all the gear out the night before. Shoes unlaced and sitting next to my pile of clothes, Garmin sitting (hooked up to the charger because I am petrified of it running out of batteries mid-run) next to my clothes.
2) Hit the bathroom. I give myself about 10 minutes to let my guts wake up (I allow myself this window of email/website/Facebook time...but I look at the clock and stick to just 10 minutes.) and off I go.
3) Start locating. I hit the 'locate' button for my Garmin when I go into the bathroom to let that sucker start up. On my way out it's done 99% percent of the time.
BOOM. I'm out…no more farting around for this girl. I will say that I have a finicky stomach so I eat a big snack before going to bed at night and then don't eat in the morning. If you DO need to eat before your AM run:
* Nightstand nosh: I've had friends leave an energy bar on their nightstand and wake up in the night to eat it, then roll back to bed.
* Liquid nutrients: Drinking something with sustenance when you're close to run time can often be easier than handling food if your stomach is sensitive.
* Nighttime bedding: If you need an extra hour or so before your AM run to eat, get to bed earlier and be strict about it. Sleep is incredibly important for runners, so don't skimp there…you can use the extra morning hour to do things you would have done the night before. Getting sucked into YouTube gems included.
Here's to getting to that run before that first Cup 'o Joe wears off! 😉
———–
Check out my post on taking care of those runner pops, squeaks, creaks, and niggling injuries.
Check out my post on pre-run nutrition and finding foods that will sit well in your stomach and timing your fuel.
Check out my post on liquid nutrients.
Check out my post on GI issues for runners.
Check out my post on sleep for runners.
Check out more Runner's Strip cartoonage!
———–
1) What usually takes the longest in your pre-run routine?
2) What are some of the runner rehab elements you do to take care of the 'old bod'?
Plantar rolling and leg swings are staples.
3) Do you drink coffee before your runs?


Related posts: