Find me a track runner who doesn't have Lane One mindless pedestrian stories and I'll show you a unicorn who poops gold.
There really needs to be more universal awareness for the word, "Track!" It seems pretty flipping clear to me, no? As it is, when you're in the middle of a 5 mile tempo, gut-wrenching 400's, or dare we even THINK about, a race…having to yell anything seems like a burden. We may say, "Track," but you know we're all thinking, "Look, A-hole, wise up and move the eff outta my way…I'm busting my @$$ and you're walking a 15min mile…clear the heck out of LANE ONE!"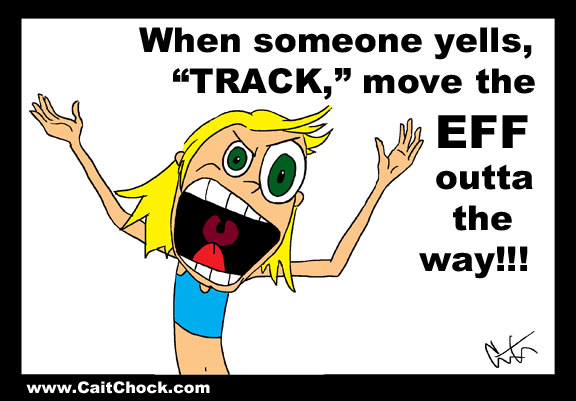 If you knew it wouldn't ruin your split, you know all runners harbor the fantasy of dropping shoulder and just plowing through the oblivious idiot. For all of us who have fruitlessly, wished, go read Mo's account of an epic Lane One throw-down. I'm only sorry it messed up the runners' repeat.
I'm not heartless, okay, there have been days where little kiddies are weaving in and out of Lane One. I'm not anti-child, but I'm also not going to lie and say that when I'm running and already feel like I'm dying, I really don't want to have to play Chicken with your child. Parents, please, do all us runners a favor and bolster their love of track in Lanes 6-8.
Teenagers who think you're funny, cackling at us from the infield or on the bleachers 'kickin' it' after school. You're not funny. But to their credit if they are clear of the inside lanes, by all means go about your business. The world will offer you its slap of reality soon enough. Enjoy thinking you're the coolest things to ever walk the planet. Or, come down and join us for some fun on the track…you would actually be cool if you helped pace, we'd love you forever!
What it really boils down to is this: I don't care what language you speak, I don't care if you worship a deity or the all-mighty Swoosh. You can be purple or polka dot, you can be in love with Cheetos or Pop-Tarts, you can be cool and have an addiction for running or find your sweat elsewhere.
I'm one of the least judgmental people in the world, but when someone yells, "Track," you better move the he## outta Lane One.
1) What is your worst Lane One horror story?
No joke, middle of a 3k race and I was almost impaled by a javelin…girl was holding it and decided to stroll across the turn just as I was rounding it.
2) Do you typically yell something out if you need your path cleared when running, or not?
3) What is another rule of the track that needs to be better enforced or the masses need some schooling on?

Related posts: