*Cue Vanilla Ice here* Side-tangent for a moment, does anyone remember watching him in that Teenage Mutant Ninja Turtles movie…oh, good times.
Now back on topic: ice. I've said many a time that injuries in our sport are a necessary evil that always sort of lurk in the back of our minds. At least for me, anytime I feel a new niggle, twang, soreness, whatever, there is a little knot in my stomach. Inner dialogue: "Oh, it's nothing….what if it's not…I'm sure it's nothing and just forget it…but what if it turns into something…don't think about it and it won't exist…what if I can't run tomorrow…you will, shut up…"
Today it's all about Cake. To be more precise, it's about music, sorry chocolate cake you also deserve a few special days to call your own but today's not it.
My all time favorite running song is Cake's 'The Distance.' Cut to me looking like a total idiot belting out…"[S]he's going the distance…[s]he's going for speeeeeeed…" I almost can't help myself every time I hear it. It's got a power over me.
You want to know what it is? I can sum it up in a single word. Eleven little letters…should I continue to taunt you?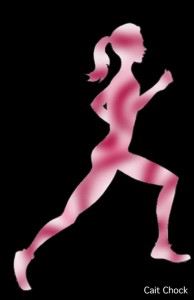 Consistency.
Wow, what a shocking and crazy, insane secret, huh? After all that build-up it may sound anti-climactic, but it's true. If you want to get better at anything the secret is practice; but you can't just practice ONLY when you want to or feel like it.
Cross-training. I have a love/hate relationship with it. The thing is, I know all of the benefits: cardio without the impact, a safe way to supplement 'miles', staying in shape during an injury…ahhh, that last one. See, that is where the hate part comes in.

I hope everyone is enjoying their long weekends if you're living in the States! It's that time of the year again, even though World Track Champs is bleeding over into the start of it, for most teams out there it's cross-country season. Now, cross-country season comes at another funky time if said person is still is in school; it's right after summer break and classes are also starting up.