There are few things that peeve me more than getting sick, and I know I'm not the only runner who thinks this. Because, let's be honest, worse than the perma-snot train, the bowels of fury, the curled fetal position around the Porcelain King is the fact that getting sick throws a monkey wrench into our training. Isn't that the end-all of everything for a runner, heaven forbid our runs get impeded upon?! 😉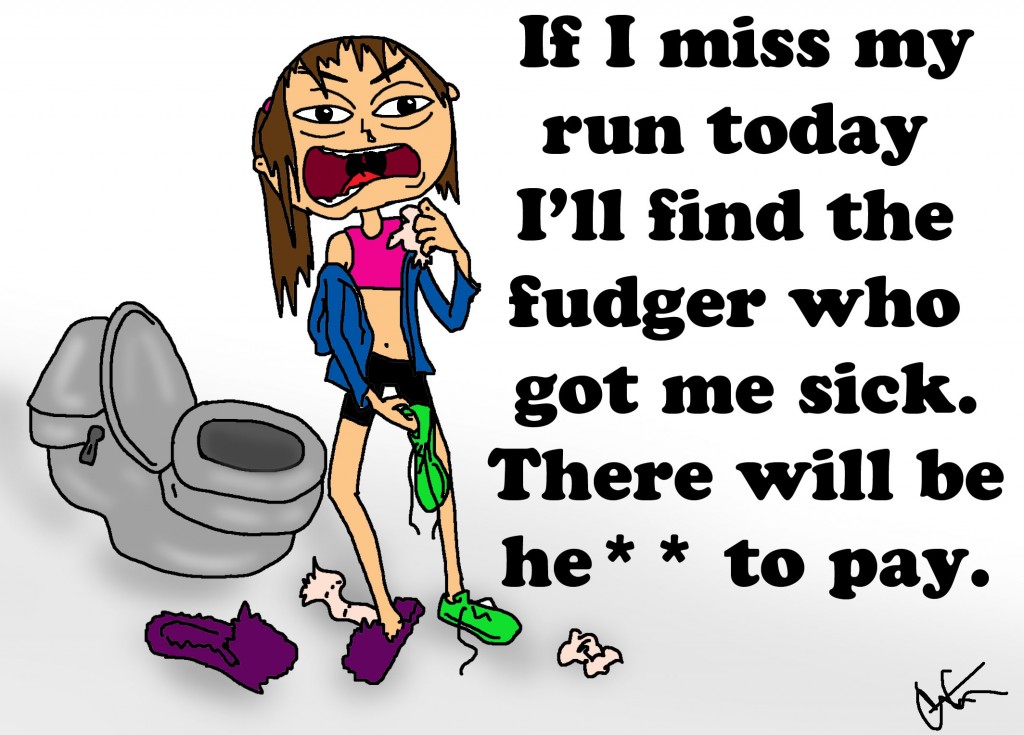 I'm sick. I denied it at first, but when it starts feeling like my body is trying to kill me I guess I can't run from the obvious anymore. The first thing all us OCD runners need to channel our neurosis towards is AVOIDING getting sick:
* Rinse, repeat: I admit to be a big hand-washer any time my hands are going to touch food, my plates, or anything going into my mouth. I really do attribute this neurosis to helping me stave off getting sick more than I would.
* Dirty Gyms: Gyms and fitness equipment that people share are about the dirtiest places and things in the world. Think about the amount of bodily fluids floating and spraying around those places…yoga mats, they are the same on both ends, so unroll that sucker and you have about a 99.9% chance of laying your head where someone's butt went. 😉 Use those sani-wipes and sprays before you use things.
* Distance: "I love you but you're sick," it's really nothing personal when you tell your friends and family members (yes, even a spouse or lovey-dovey buddy) to kindly keep their distance when they are infected. Just explain you're a runner, I mean we're weird enough in general that that should cover the explanation.

But even then us runners DO get sick. The rule of whether to run through a sickness or not:
If it's something from the neck up you're good to get your miles fix on, if it's below the neck think twice and rest may be best
.
You really have to weight the pro's and con's with sicknesses below the neck:
Will a few extra days of doing jack crap and resting actually get you over the cold and back to training FASTER than running through something, prolonging the string of 'half-@$$ed, crummy runs' and then potentially making it worse so that you then have to inevitably take a much longer time off resting?
Making decisions like these, not unlike debating whether to run through a new ache or pain and wondering if it's an injury, are things that define a mature runner. Runners are constantly forcing themselves to run through the pain and discomfort and 'suck it up', which is a good thing because you've got to be tough for workouts and races. BUT there is a fine line between being so numb and 'stupid' that you start to ignore obvious signals that you're running through the 'wrong' kind of tired. [Actually, the ever-awesome Kate @ Run With Kate did a kick-butt post on debating this sickness and running thing HERE!]
To run through sickness or not to run? That may be one question. Though, the answer to this question is always the same: What should be the punishment to those who infect a runner with a dirty, stinky, nasty, cold that messes with their miles fix?
Answer: Severe.
1) What are some things you do to avoid getting sick? Do you get more hyper-conscioud of germs during certain points of your training and racing seasons?
2) How do you decide whether to run through a cold or not?
Honesty time, sometimes I run even if I were coaching someone in 'my state' and I'd tell them to take a rest day. That said, I'm not training for something and the mental sanity retained from even a baby run is worth it to me. That said, if I've barfed or am super drained I cede victory to the sickness and coach-surf.
3) What should the punishment be for infecting a runner?

Related posts: