It may take some searching but eventually we all fall in love with the perfect pair of running shoes. How's that for living happily ever after? 😉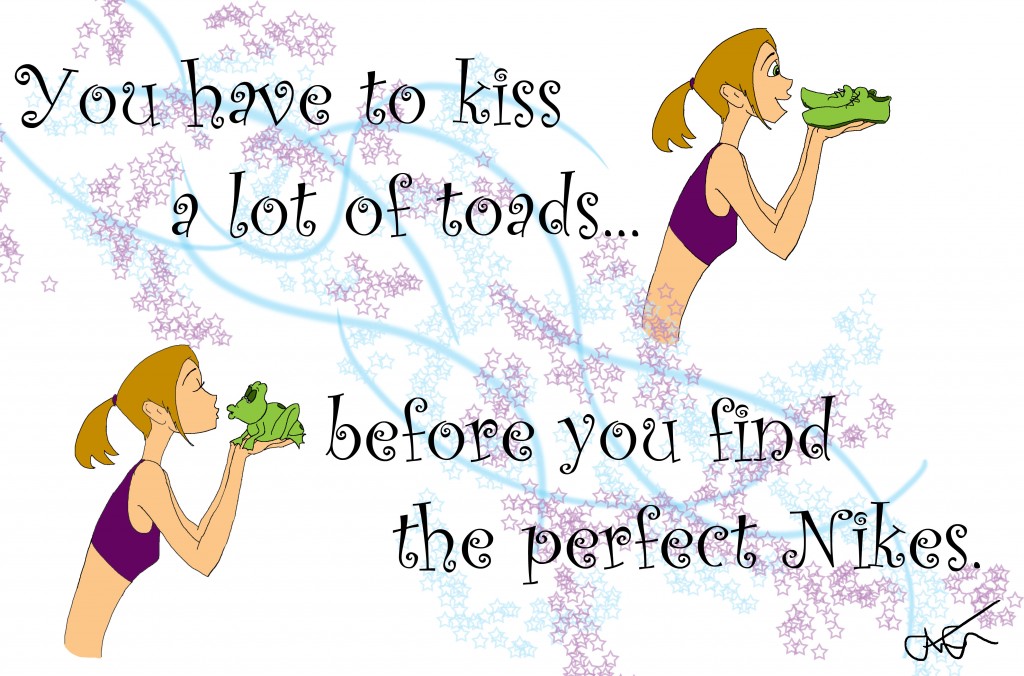 A great thing about running is that you really don't need that much: a pair of shoes and please some running clothes too. However, what those supplies lack in quantity numbers they make up exponentially when it comes to their needs in the quality factor. Reread that sentence a few times until it makes sense…haha.
Running shoes are of insane importance, many new runners (and even not so new runners) aren't able to grasp just how crucial having the right kind of shoes for THEIR foot type is. The three major foot types are: pronators, supinators and neutral runners; the majority of runners are pronators. We all fall on different variances of the foot type spectrum, but if you don't know your foot and it's specific needs you really need to school up.
Prontators. These are the guys who's arches 'sink' in and roll to the ground as they walk. If you were walking in sand you'd see a 'fatter' footprint. This is the majority of the public and it's important to find shoes with support in the arches. If your REALLY cave in at the arch you need motion control shoes, a step below that would be stability shoes. Sometimes people need arch support inserts or orthotics in addition to their shoes, I run in Super Feet and those would be my top suggestion for over the counter shoe inserts.
Neutral Feet. These are the people you should love to hate because they have the biomechanically 'perfect' foot strike. If they walked in the sand they'd have that cutesy little foot print, not a wide, fat arch. They can get away with those lighter shoes because they don't need a lot of arch support and the cushioning materials are usually lighter. [That's changing thanks to new materials and the whole minimalist shoe movement…all those Nike Lunar shoes are being made with some crazy light materials that can still offer.]
Supinators. These are what some people call 'dancer' feet, they tend to roll out and away from the arch so in the sand they have suuuper skinny prints. They are also more 'delicate' because typically the bone structures are very rigid and a bit fragile so these runners need to be hyper-conscious that their shoes have a lot of cushioning. Sorry guys, this usually means you've got to shell out for more expensive shoes with a ton of cushioning. But if you don't you'll wind up hurt…soooo, it's worth it.

Outside of being intimate with your foot type you've got to stay diligent on tracking how many miles are on your shoes and be sure to replace them regularly.
The general rule of thumb is a shoe is 'dead' after 500 miles, but that's the law of averages and I did a whole post on why you may
need to replace your shoes
more often.
Walking into Big 5 and just snagging a box of shoes marked 'Run Shoes', then figuring you'll be set for a year is on the fast track to getting hurt. Even if the pains aren't in your feet you'd be surprised what ailments can be tracked back to the wrong pair of shoes…it could be as far away as your neck, people.
If you're still having trouble deciding which kind of foot type you are or what kind of shoe to get, go into a running specialty store and ask one of them to watch you walk. Any good, running specific store will have instructed their employees how to asses a runner's foot type from their walk and then be able to offer assistance.
Okay, yes, I'm Nike biased but only because I dream of spooning with my Tempo shorts in the night; hence the first caption. [So if there is anyone Nike people reading this and wnat to give me a little what's what please don't hesitate to reach out! Hehe.] But, I'd be lying if I didn't say that there are other awesome shoe brands out there too. 🙂
1) What kind of foot type are you? How or when did you find this out?
2) What kind of shoes are you running in now? How do you like them?
3) Do you have any kind of shoe inserts or orthotics?
4) Finish this sentence and make it sort of tied to running: "You have to kiss a lot of toads before you find the perfect…"
Related posts: