Every runner head is pretty stinking awesome. The cranium, the noggin, the noodle; while our legs do most of the PHYSICAL work the mentality of a runner defines how well he or she will actually preform.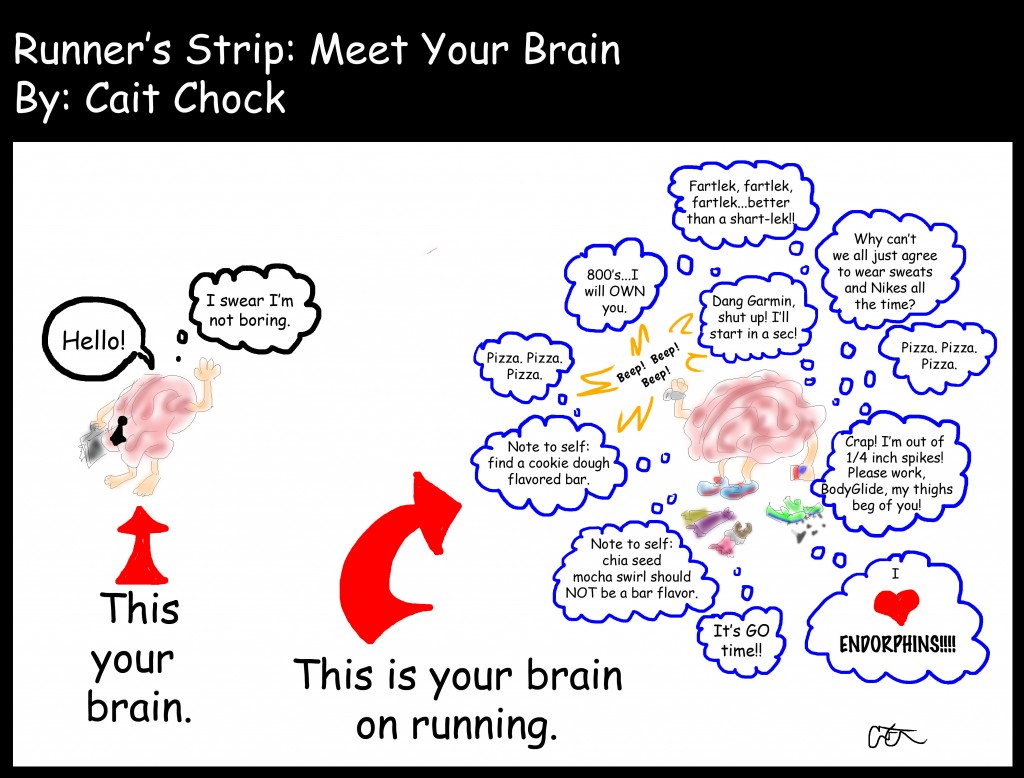 A runner's head can be their greatest asset or wind up turing into their greatest obstacle. That's taking this head metaphor to a deeper level and you can school up on how to train your actual runner brain HERE, HERE, and HERE. Today's post is going to be about the superficial head…so pull out your best 'shallow' model stereotype.
It sure is starting to feel a lot like Festivus and the winter weather generally leaves me curled up fetal position and talking myself up saying that it really isn't THAT cold. Layers, Baby, layers and the parts of a runner that are most apt to chill over the quickest if not protected properly are the hands, feet, ears and face. It's important to have weather-prudent gloves and socks but what about that noodle?
I don't live in a state where snow is the norm, and what I call freezing is actually the 'technical' freezing point, not like you crazy Duluthians where 32 degrees would be downright balmy! So I don't usually wear a hat for my runs but I know that it is ubber important for runners to protect their head and ears when out in the elements. Flashback fact from grammar school: you lose most of your body heat through the head.
Ambler, a family run business, got in touch with me about their Heat Beanies. Being that I'm doing my own little running shirts lineby my lonesome I'm more than happy to support the 'little' guys so to speak! 🙂 Ambler's mission is: 'To make quality hats. We create fit, function and design with everyone in mind.'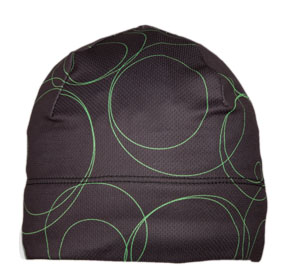 They've got a few different varieties and they've fused fashion and function to corner the exerciser niche with their Heat Beanies. I was sporting the Orbit, my favorite color is lime green, and here are my thoughts:
* Fit: It's a beanie which is nice because I'm pretty picky about 'feeling' anything when I run. As in if my gloves/watch/hair tie/hat/etc. are loose it bugs the CRAP out of me the whole way. So I would prefer the beanie style over a typical hat, just because it can get tight on there and stay put.
* Material: The beanies are made of a polyester microfiber with the lining around the headband made of fleece. It's light and the lining provides more warmth to the ears, which usually chill over the fastest. It's really light and overall pretty thin, it's more than warm enough for me and while I haven't take it out in actual super below-freezing temps or in the snow I'll note that Ambler is situated in the Canadian Rockies so I'll go out on a limb and say with the technical material it would trap heat in there and provide the warmth one needs without all that bulk. I would hate trucking around any excess material and bulk.
* Overall: I like the Heat Beanies and usually I'm pretty good at 'sucking it up' in terms of weather when it comes to a run (of course I dress appropriately to make it bearable!); but in all other areas of life I'm the biggest wuss, so I'm sure I could put these babies to use there as well.
Now the fun part for you guys, Ambler was kind enough to send one for me AND one to give away to a lucky reader. To enter leave a separate comment below for the following:
1) Visit Ambler's website and tell me which of their hats you like the best.
2) Like me on Facebook.
3) Tweet, Facebook, or blog about the contest.
The giveaway will be open until Saturday, December 1st!
Protect that precious cranium, runner posse, because ensuring the superficial and gear aspect is covered allows you to focus on the HARD stuff. That being the physical right, left, right as well as taming the MIND which, if you're not careful, can stage a revolt and make you slower than you'd like. 😉

Related posts: