All you AWESOME runners better save the date and make your way to Cali cuz THIS is going down…the Ezzere Launch Party and Runner Night!!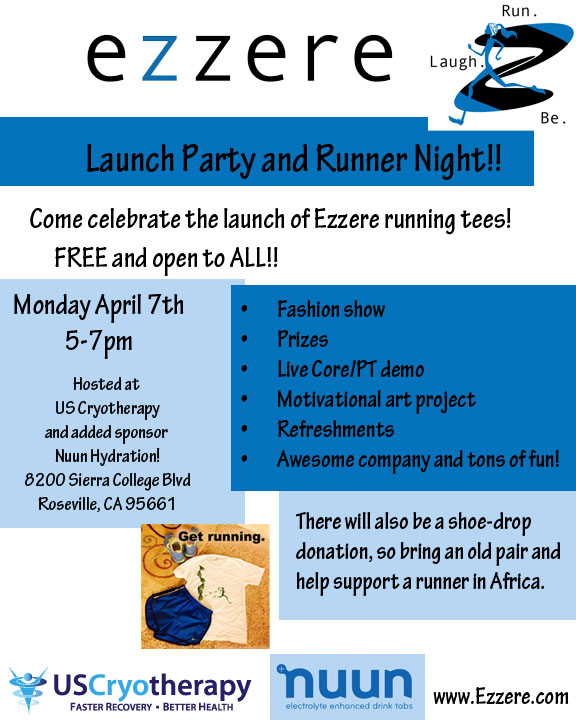 Do you have your excited face on? Good. Here are some more det's:

My AMAZING friends at US Cryotherapy are opening up their doors for this runner posse. Haven't ever tried this subzero temperature recovery treatment? Now's your chance to come in and try the local treatment. Read all about their benefits for injury prevention, faster recovery after workouts, and injury treatments HERE.
Nuun Hydration is also taking part in helping sponsor the event too! They will be keeping all us runners hydrated up right as we party down with their NEW Nuun Active Hydration Drink. We already love their current drink line, this latest formula has those same essential electrolytes but now packed with extra B Vitamins and Caffeine. Still less than 12 calories and sans extra sugar though!
GU Energy also knows how important it is to fuel runners right and they're going to be brining their fine selves and those awesome packs of Pure Performance energy to the party!
Not sure of the perfect place to put that hydrating drink or energy gel?? Well never fear, Hydrapak is coming to this Ezzere Launch Party Runner Night too and offering up some of their SoftFlasks to a few lucky runners in attendance! These SoftFlasks are well, soft (duh), and flexible meaning you can easily squeeze them on the run and get your energy gel or drink much better than the hard shell variety of flasks.
PRIZES!! Yes, let's be honest everyone loves some good prizes and SWAG, right? The first 50 people will be gifted AT THE DOOR with one of Nunn's new Active Hydration Drink Vial. The raffle will include a KICK@$$ Ezzere Running Tee, a Nuun Sample Pack, a GU sample pack, SoftFlasks from Hydrapak, AND a whopping $200 valued US Cryotherapy gift pack that includes: a 5-Pack Cryo Chamber/Localized punch card, US Cryo tee-shirt, water-bottle, and pen.
Excited smile getting bigger? Come as you are, Runnerchicks and Runnerdudes, there's going to be a core exercise and injury prevention tips demonstration lead by moi and everyone there will be able to get arty and create their own motivational artboard.
Support a runner in Africa and bring a pair of your old running shoes, please don't make them too dead, at least 100 more miles on them and make a donation to the shoe pile.

If you're not in the local Roseville, CA area…I'm sorry, but I'll be sure to take loads of pictures and you can STILL get your Ezzere Runner Tee, US Cryotherapy, and Nuun Hydration love at the respective sites.

Any more questions about the event send me an email: cait@caitchock.com
Until manana…keep running!

——-
Oh and THIS Friday there's also a party, I know it's getting full on club in this blog, there will be the #CoreandCake Party, check out that info HERE!!
——-
1) What do YOU consider a fun party, event, thing to do?
2) What's the best prize you've ever won? Are you pretty lucky?
I never win any raffle or giveaways…haha.
3) What's you're favorite Ezzere shirt?
4) Have you ever tried US Cryo?
Yup…you can see that HERE.


5) Have you tried Nuun? What's your favorite flavor.
Wildberry.