If I'm on an easy run I usually get something random stuck in my head. A phrase, a word, the same song lyric running a loop over and over until the run is over. It can sure drive a person mad when it's of course a song you hate.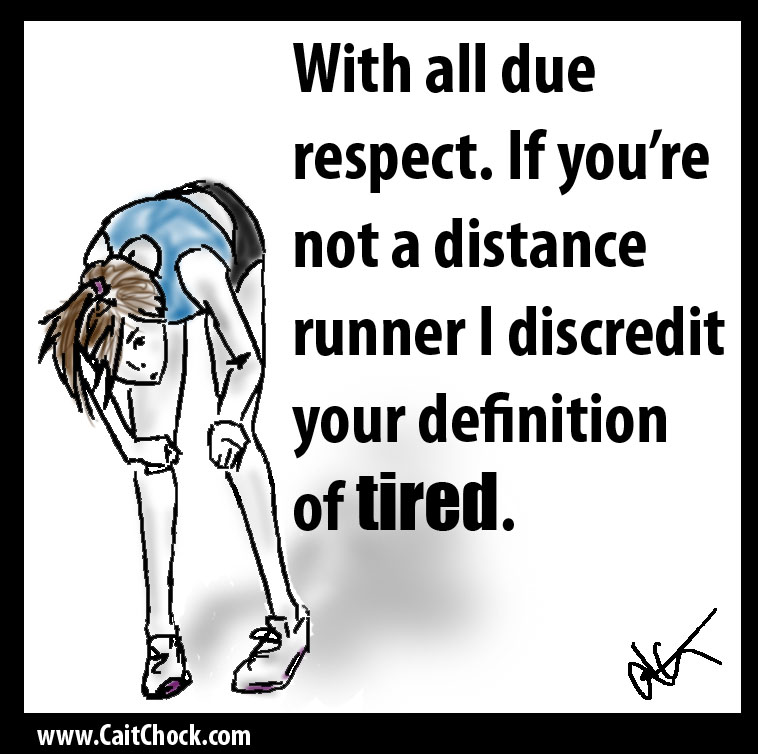 Be it as it may, I usually can't get the lyrics to most songs right anyways, so why not make them up? It all plays in time to the music, I mean that's all we really care about, right? 😉
"(S)he's going the distance…(S)he's going for speeeeed!" Won't lie, Cake you have my heart and I don't care what music comes out until the day I die this will forever by my favorite song. It's not about racecar driving either.
"Don't you worry, don't you worry, Child…the track has got a plan for you." This is a newer one and it comes on the heels of two thoughts: 1) I need to get something other than radio in my car and 2) overplaying a song leads to psychosis. True fact.
Whatever it is looping through your brain to get you through those miles is just fine and dandy. Running couldn't get any more repetitive…haha…but that's got to be a part of the reason we love it! Some not so hot things that come with a repetitive motion:
1) Body Adaptation: The body is sneaky and starts to adapt, meaning if you're running wonky, with bad form that just get ingrained in the body's 'muscle memory'. Keep practicing a bad habit and over time it will bite you in the bum. Probably literally.
2) Wandering Mind: Having random thoughts through easy runs is totally fine, a nice distraction. But you don't want to be counting blades of grass during hard repeats at the track.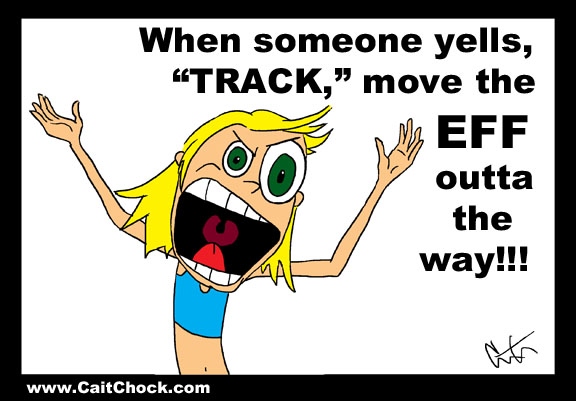 How do we, as runners, combat these?
1) Muscle Memory Toolbox:
* Check your form, them start improving it. Post with a lot of info HERE.
* Find your muscle imbalances and work on improving them. Posts HERE and HERE.
* Body rehab in the way of stretching and massage. Posts HERE and HERE.
* Drills and strength work come hand in hand with form work. Check that out HERE.
2) Focused Mind Toolbox:
* When the pain sets in try and zone the heck out. Different from wandering mind and that's explained HERE.
* Count your stride, breathing, and do a form-check as a means of distracting from the pain AND keeping your mind working WITH your body to get through those intervals.
* Mantras…here is where a short song lyric can help. 'She's going for speed' or make-up your own positive affirmation like, 'Smooth, strong, powerful'.
* Stay relaxed and don't try too freaking hard. Crazy, but you can slow yourself down by just trying to force it. So stay relaxed as explained HERE.
Practicing both sets of tools during easy runs is productive, so try and cut that in between making up better lyrics to overly-played songs. Avoid psychosis…plus, don't all runners just want to be better at, well, running? 😉
1) Name a tool that should be included in the muscle memory toolbox I didn't include.
2) Name a tool that should be included in the focused mind toolbox I didn't already name.
3) Favorite pump-up song? Or would you like to re-write some lyrics?


Related posts: