Our minds are experts in construction. They will build up fences quicker than nobody's business. It's actually a survival method, the brain 'thinks' it's looking after our best interest, keeping us safe by setting limits.
The problem is that this survival method is archaic and antiquated, most of the fence-building is stopping us from pushing ourselves in work or running rather than stopping us from trekking too far from our caves, getting lost, and gobbled up by a dinosaur.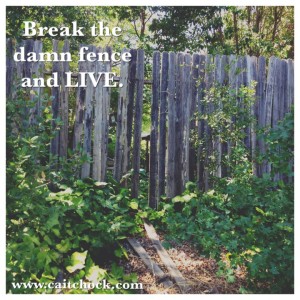 In breaking down your fences you are freeing yourself. Because on the other side, THAT is where you can push yourself to your best. The other problem with fences is that they stop you from even dreaming, or imaging that something epic is 'out there' that YOU could possible accomplish THAT! Fences keep you safe, in a comfort zone, they also suck because they rob you of really feeling and experiencing.